I was supposed to update this days ago but this week isn't exactly a breezy week for me. Maybe that's why it was a good thing Dy and I went to the beach and had a relaxing time last Saturday. Anyways, here's some pictures. The yummiest of food are sometimes the simplest of them.. what more with the loved ones cooking for the ladies. Heh.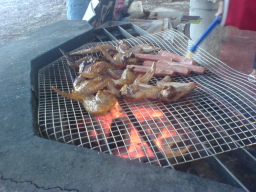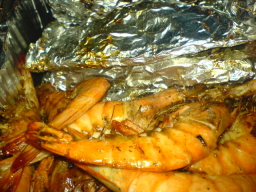 I've always seen and loved seeing people barbecuing marshmallows at campfires. There were marshmallows at the bbq session so, I had my chance. I love, love, love it! Love the melted gooeyness of it. *drools* Ok, so I'm a bit back-dated, but at least I had my first. Heh.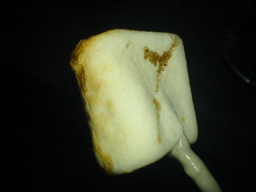 Oh, and as much as Dy has been writing about supernatural stuff in his blog, I have a picture of a sighting to share, too. As I was enjoying my marshmallow and Dy took my pic, a creepy being stood behind me. A hungry ghost it seems.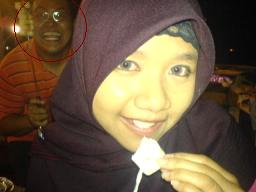 But with that skewer of squid thingies, he was hungry no more. =p  Kena per hungry ghost.. kan cina.. oops..
Kinda stressed up this week. Had to keep the kids' books updated since it was due to be checked. As expected, I screwed up since I overlooked some of the corrections and so were left unmarked. Kegh!
Really though, my kids have been rather understanding. Helped me alot. Even the little ones this time round are a weeny bit more obedient than my previous batch. Rehearsed with them a couple of time for tomorrow's observation. Did I mention observation? Yeaps, having one of those tomorrow. I seriously hate doing that but then again, how else will the people up there know how we teach if not this way.
Anyways, like I said, I rehearsed with the kids and of course, bribed told them that if they behaved, I'd bring them to the computer lab on Monday. But seriously, I don't really have to threaten or keep warning these kids cos', well, their just betterlah. Heh. Naturally, the kids love the computer lab since I let them play the ML cd-roms and I would expect them to be better than they usually are.
Right now, I'm in the midst of touching up my slides for tomorrow. I can just imagine how the lesson would go on tomorrow. Hmmm… speaking of tomorrow, the form teacher of that class I walked out of last week, is gonna sit in during my lesson tomorrow. Good for me. Ahakz.
************************************************
And we wrote our names on the sand. (The heart looks like a real big ass, though. Haha.)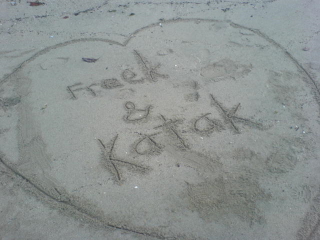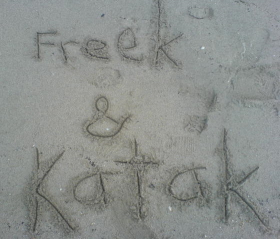 Love you.
Filed under:
My Life
—
9 Comments »