This will be a super-long entry since I haven't updated for quite a while. Mostly pictures though.
The Lil' One has finally slumbered. It's easier to make her sleep these days. I just roll her to one side, let her hug her bolster and within minutes, she'll doze off. Her daddy's sleeping beside her. Poor man, having diarrhoea.
Anyhows, it has been hectic these past 2 weeks. Exams, marking exams, keying in of marks. Thank God all's done. Now I'm left to think about the year-end concert. Somehow I've been put to handle the stage decor. Which is a huuUUuuge thing for me. And I've been super-kanchiong about it since it's a scary responsibility to hold eventhough I'm quite alright with it. So, I'm actually shagged to the max and even now, my (eye)pupils keep moving to the middle and almost meeting one another. Damn tired. Won't be surprised if I find myself on my keyboard in the morn. *yawnz*
As for Aaliya, I'm actually quite disturbed by some comments from?ignorant individuals. One thing I've never liked is when people start comparing kids. Comparing your own kids is a bad idea. Comparing yours and others, is just horrible. Ok, sure, so at 5 months, Aaliya doesn't roll over that much. When she does roll over, sometimes she doesn't really succeed since she still hasn't figured out how to move her hand so she doesn't get stuck halfway. Sure, Aaliya doesn't crawl as yet too. But I'm grateful to God that my baby is healthy and she's active in her own way. She can hold her head up, she reaches for things and grabs them. As long as she's feeding well, not down with anything, I'm contented. Besides, I was slow too when I was a baby but alhamdullilah I'm alright now, aren't I? So, sheesh, shut the trap will, ya? Geez.
So, on to happier thoughts, some updates.
I've started Aaliya on Nestum. A lil' diluted just to get her started. Will start her proper when she hits 6 months. Till then, whenever she gets the bottle, she guards it like you cannot imagine. (this' her plain water bottle. Obviously, her milk bottle cannot be soOOooo tiny, aye?) Hair looks like those toy trolls a long time back?which had hair that stood up in bright, bright colours. Heh.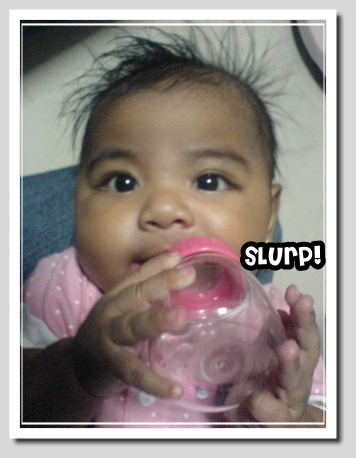 Last weekend, Dy & I attended 2 weddings. First was my cousin's. Managed to see Aaliya's cousin who was born?about 1 month after Aaliya – Mohamad Amshar.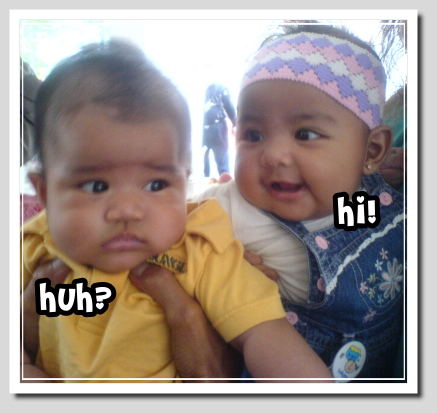 And then to Dy's buddy's wedding where I attempted to help make the bunga for the guy's samping. *shakes head* I shall not elaborate.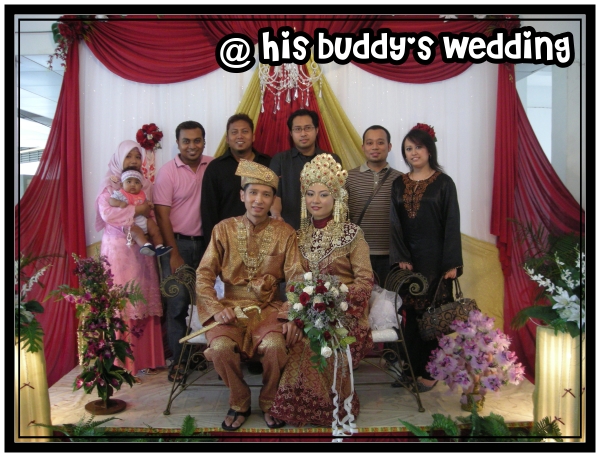 On Deepavali, Dy turned 28. A few days prior to it, I had to wake up in the middle of the night to make those jerseys-on-toothpicks thingy. It's hard to make surprises when we barely leave each other. Heh. And since I can't bake for nuts, I got Tween to make the cupcakes while I.. erm.. supervised the colours and design.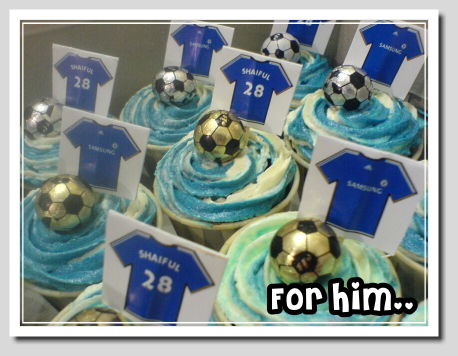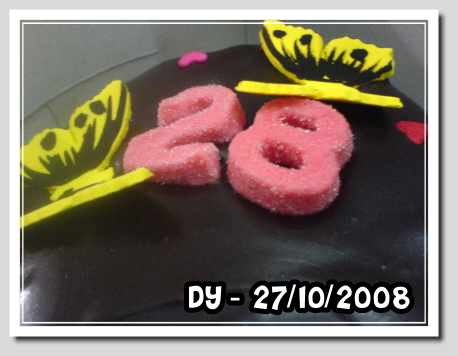 I can't say how much I love the man. I'm blessed.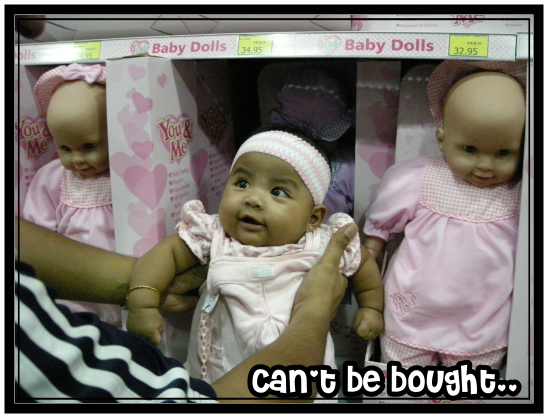 Filed under:
My Life
—
4 Comments »