These past few days or week has been filled with first times.
For example, today marks the last day for the first few pupils I taught when I first entered that school somewhere in AMK. When I first taught them from June of 2005, they were in P3. Taught them all through P4 & also P5. Didn't manage to teach them in P6 due to my pregnancy, but nonetheless, I'm gonna miss them once they move on to the next chapter of their lives. They have taught me a lot throughout my time with them.
And then earlier today, my school had the annual Prize-giving. It was?my first time decorating for the event. It is quite a big event but I had to work on zero budget. Alhamdullilah, everything went smoothly and none of the letters I stuck on the banner fell and hit anybody's head during the concert. Phew!
As for Dy's and mine first-born, these are some of her firsts: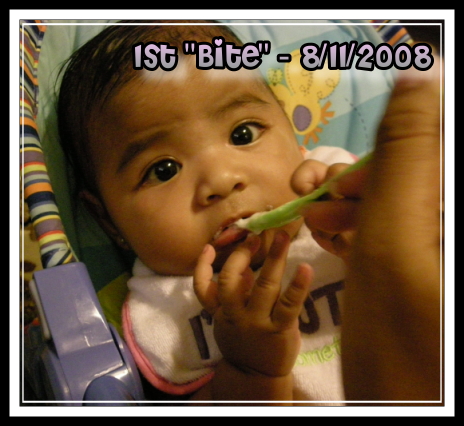 Except for her whinings-in-between-spoonfeed, she was okay with eating. Hehe. Oklah, she doesn't whine. More like grumble and rumble and pulling the spoon beckoning me to hurry up in scooping those baby nestum.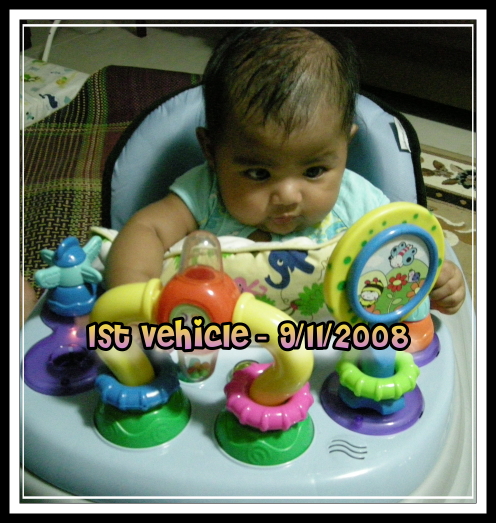 My dad bought this for Aaliya. It has flashing lights and outrageous music and a mirror which she's looking at in this picture. Even babies know the meaning of vanity thses days. *lol*. I was kinda worried that the flashy lights would spoil her eyes, but?since she likes looking at moving objects, it's ok I guess. I think I'll upload the video of her "humming" to one of the tunes. Haha. Will do when I'm free, aight?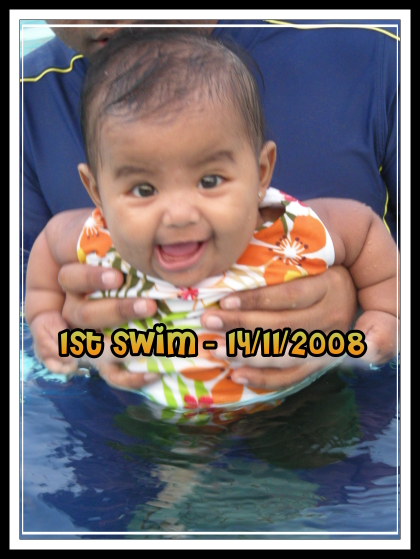 This one had been the most fun so far. During our showers a few days back, I've slowly introduced her to room tempeature water and also cold water. So, when we hit the shower before getting into the pool, she kinda shivered since it was cold tap water. Then I brought her to touch the pool water from the sides. Initially, I let her feet touch the water first then slowly moved her down and down. She was about to cry but Dy & I praised and applauded her and it seemed to pacify her.
As I gradually submerged her body up to the chest level, she was literally 'freezing' her body, afraid to move and I could see her lips shivering. I was about to give up but to my surprise, after about 7 minutes or so, she began smiling and a few minutes later, she actually began kicking her legs, treading water and laughing and laughing! Haha. It was hilarious but such a proud moment for Dy & I. I've a video on this too. Will upload soon.
Meanwhile, bed's a-calling. Nights!
Filed under:
My Life
—
1 Comment »