I don't know whether it's too early or something, but I think I felt my baby a few times already. I do remember the feeling of flutterings I had with Aaliya and it feels the same. They say it could be gas, but I would know gas. Gas hasn't been pleasant for me. The one's I feel from time to time, are pleasant ones. I'd like to believe it is him/her moving. And I think I'll do just that.
My tummy is ALREADY showing, though. And I can't believe I've to take out my maternity clothings from storage so soon. *lol*
But I'm glad for this blessing, nonetheless. I'm eating again and there's no more need to hold a cup everywhere just to spit. Can't wait for January to SEE my baby again.
*****************************************
Praise be to Him too for the blessings in our pockets that He has given to my small little family this December. Can never thank Him enough. What more since most of the big, big payments come around this time of the year like all kinds of taxes, and a little pampering for the car.
And with another member, God willing, joining us mid next year, it is great to have a bit more to save for all the bills and preparations for his/her arrivals. All in all, it is His blessings and I, being the Finance Minister of the family, intend to use it well.
Thanks to my darling Witt for her gift card, I bought meself a pair of Crocs! I decided to get one being preggy and all and the soles of my Ipanemas are a bit worn out now. I'm not really big on spending on myself. I usually like buying things with Dy and Aaliya in mind.
Bought Dy a pair of sandals. I'd wanted him to get a pair of Crocs but he was reluctant seeing the price and all. And also the Wii Mario 4-player game he'd been eyeing for a while now.
For Aaliya, I've never been stingy about buying things for her. I'm not really the kind who shop a lot or shop for expensive stuff cos' Dy & I believe in buying things within our means. And even if I shop online, it'll be once in a blue moon kinda thing. But, alhamdullilah, given the means this December, I did get a few things for my little 18-month old princess.
Bought these 2 dresses and the tutu skirt online. I just liked looking at the tutu skirts. I admit Aaliya doesn't really have the ballerina physique. Tapi, she has a sexy butt… so, I know she'll look cute in one! *lol*? The other stuff – shoes and swimming suit-, I got them from dear old TM & CS je. Heh… I did wanna get a pair of Crocs for Aaliya, but since her feet grows quite fast, which meant it'll soon be outgrown, I got her the Jibbitz one instead.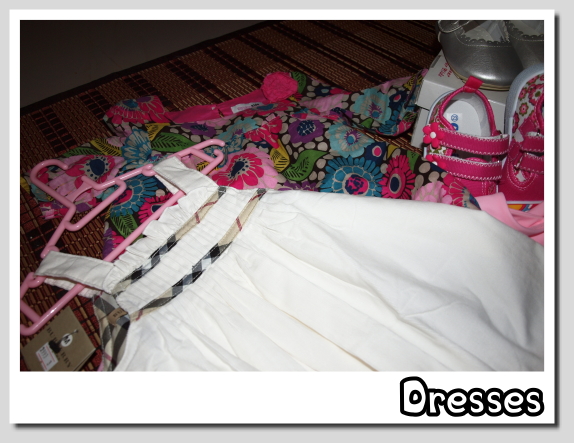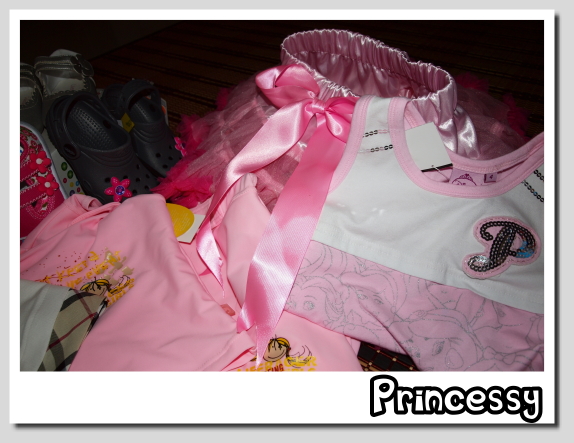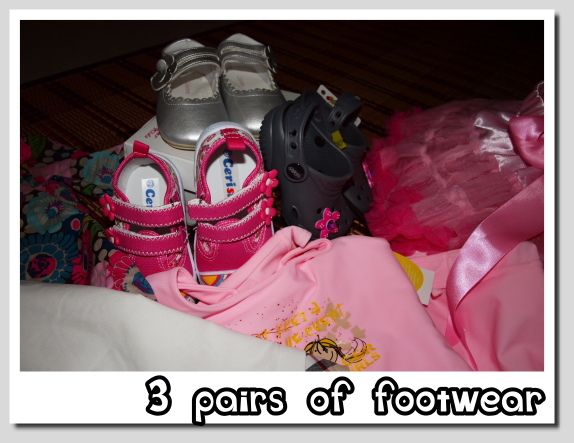 And I'm guessing, next December, if all goes well, I'd be shopping for 3 (me not included)!
*
*
*
My heart goes out to that someone who lost her baby @ about 5months of pregnancy.
It's a scary news to the ears of a pregnant woman like me, but all I can do now is have faith in Him and pray. I need yours, too.
Aight, off to sleep I go. Adios!
Filed under:
My Life
—
Leave A Comment »