I've never felt any more erratic in my whole entire life, than this past week. Thankfully, I have a very patient husband who has been such a darling in helping me get through it. Not forgetting friends too. *hugz*
Anyways, Dy has mentioned how we spent our weekend in his blog. It was a nice meeting with Ain and family and of course, I felt a bit awkward in the first place as with ALL new people I MEET. Any close friend of mine would have thought something's wrong with me if they saw how I behaved the first time I met Dy. I was awfully quiet. Ahh.. that was such a looOOoong time ago. Almost 6.5 years to be precise.
Back to the meeting with Ain and family, it was a pity I had school on that day cos' I could have made some cookies to bring along to our little outing. Heh. On Sunday, me and Dy decided to get a small tv to put in our room. Initially, I hated the thought of having a tv in the room cos', well, a bedroom is a place to sleep and with a tv around, it is SUCH a distraction. Trust me. But then again, with me parents staying with us for the moment, it's good for privacy and yeah, I love watching tv with Dy cuddling me.
So, along with that 14″ tv(tiny, huh?), we got ourselves a small 3-drawer cupboard to put the tiny tv on. We also needed space to put our inner clothings in. *lol* In the end, the cupboard didn't really take up much room and it didn't even disturb our solat area. Thanks to my dad for putting the whole drawer together. My mum was so against me fixing up the stuff. Some superstitious thingy. I love d.i.y stuff so, I was like "bleargh!" for not getting the chance to do it myself. With the cupboard and tv, we now have less budget for our anniv. From that luxury get-away we had planned, we'll be doing a budgetted one instead. And due to some unforeseen circumstances, we had to cancel the plan to travel somewhere. However, I'm just happy that we're reaching that 1-year mark and that I'll be spending it with him. I'll be contented to just spend the time with him at home, watching tv on our bed, having cake and dessert. But then, again, this year, privacy isn't much yet so, yes, we shall be overnighting somewhere for late-night movie and stuff. I'm estatic. Especially thinking of his reaction when he sees my present. I know he will FREEK out on me. (pun intended)
Anyways, I'm off to class now.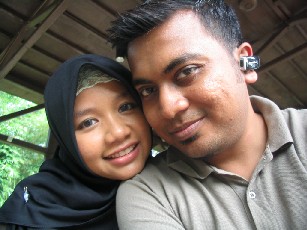 Filed under:
My Life
—
3 Comments »