I'm supposed to be sleeping as I'll be working tomorrow, but since the man is still surfing around, enjoying his first day of being jobless (well, till this coming Monday), I'll stick around for a while to do up some of my work. Work is neverending, obviously, but yeah, I do what I can.
So, last week, Dy and I bought us some new toys to play with. Not the k*n*y sort, unfortunately though. Heh. Just 2 new stuff which are technically free since I'll be claiming them under my LDS. Woohoo!
This first one, has been something I've been looking at for quite a while. I haven't had the time to godeh-godeh and play around with it that much yet, but I hope to get the hang of it soon so that something productive can come out of it.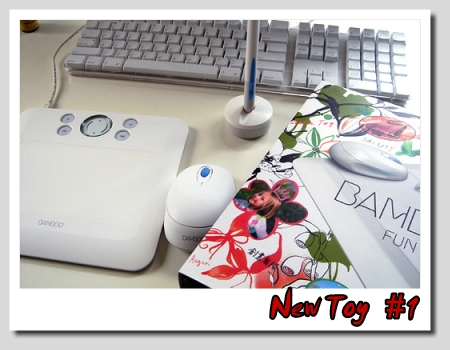 And, no. I'm not using an iMac. It's just some random pic of the product I took off the Net.
The second toy, well, it's pretty obvious what we'll be doing with it.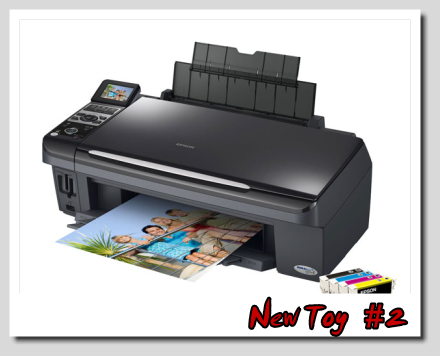 And today, I bought a 160GB external harddisk which, I didn't actually plan for, but I think would come in handy as well. Sadly though, I can't claim for this one since, I've used up the LDS. It's great to have an IT-geek for a hubby since I get to listen to him yak advise me on what to buy and what not to. Only bummer for me is, going to SLSq. Just like he gets bored and sleepy at Popular, I feel like sh*tt*ng when I'm in SLSq. Tsk.
Anyhoos, just wanted to share with you something. My sis works at a Swensen's outlet in the East. I shan't reveal which outlet though. =) So, every now and then, Dy & I will drop by to eat there – and hope for freebies. Heh. So, just a few days ago, I ate waffles there with a very Generous (with a very big capital G there) serving of ice-cream.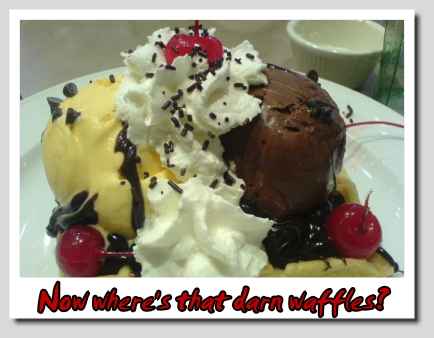 Though I asked my sis to add just 2 more extra cherries, I was given 5.. 1 on each corner of the waffle plus that one on top. And as you've noticed, the scoops of ice-cream are damn bigger than usual. He even gave 3 big scoops of ice-cream for Dy's banana split. Thank you, sis's colleague! (wonder if he was trying to impress us) *lol*. And since my sis requested I leave her some of the calamari rings I ordered, I decided to whip up a new creation for her.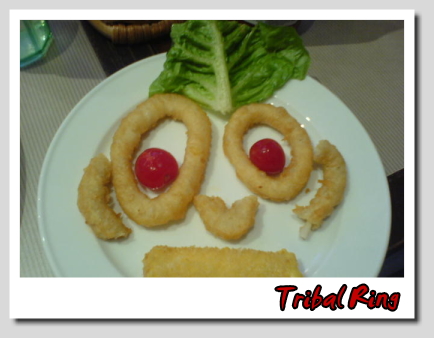 Heh. Ya, memang aku takde kerja lain lor.
And for those whom I've not met for a while now, with all that food and the fact that I'm now 7 months preggie, it's little wonder I look like this…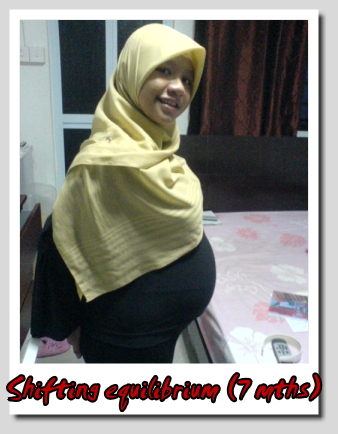 Don't worry, I won't topple over.
And don't you even start mentioning the Rudolph-nose to me. =p
Aight, off to bed. Nitez~!
Filed under:
My Life
—
4 Comments »