I've always been a fan of Mr Men & Lil' Miss. Well, mostly Mr Men. Since I was a kid. It seems I haven't quite grown up when cartoons are concerned, aye??Heh. Anyhows, although Bedok & Woodlands are very far apart, that didn't stop me from going to the show. Which Men do I like? Mr Bump, of course. He's really a pitiful thing being a hazard even to himself every single time, which, is how I feel about myself too sometimes. Heh. I love watching the cartoon & reading the books and laugh at each Men's & Miss' idiosyncrasies & all. You know, I wouldn't mind buying the whole book series but all I need is MY MR MAN's green light. *hint*hint*
Anyways, sure, I know they'll be at Compass Point next week, but I'm really quite tied up next week actually, helping my in-laws with wedding catering. So, off we went in our Lil Picanto T-to to C-Way point. I enjoyed the 20 minutes show, though I saw one of my student's family there.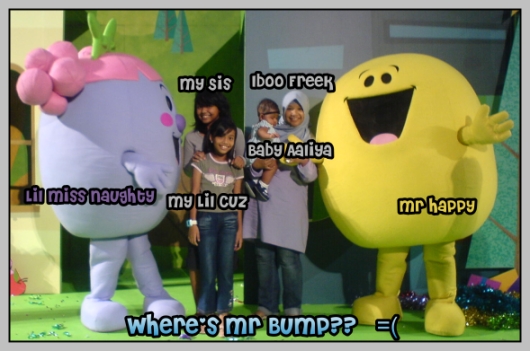 I was actually quite disappointed that Mr Bump didn't come out for the Meet & Greet photo session cos' he already came out in the earlier show, but watching him in the show was worth it. Hehe.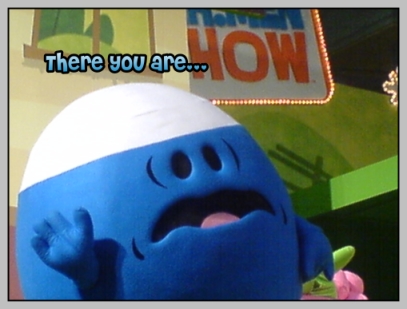 Oh, and 2 days ago, Dy, Aaliya & I went to catch..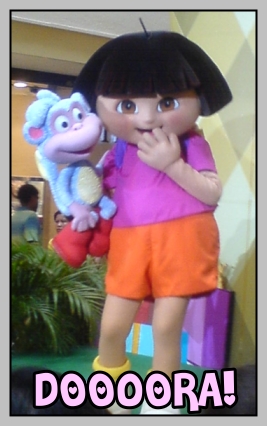 But we didn't manage to take pics with her though. Hehe.. it's so fun having a kid. I have a reason to go catch these characters.
Moving on, I've recently created 3 looks for my Baby Girl. Firstly, I thought, maybe we could go for the Rihanna long-hair-one-side kinda look. But after trying it out, it didn't look too good, huh? (blurred picture inherent from source)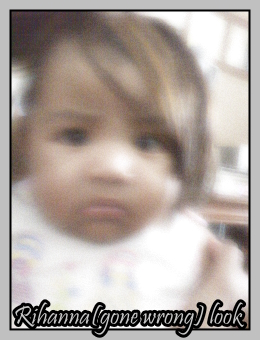 Then I thought, what if my Baby had long hair like me?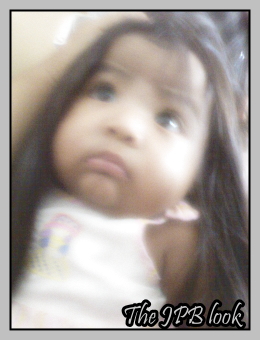 Upon closer observation, she looked like a cute version of that thing in "Don't Look Back" (translate that to MALAY). *lol* This last look, though it's not really feasible fo her since she's still too young and might be of inconvenience to her, looks the best. Hehe.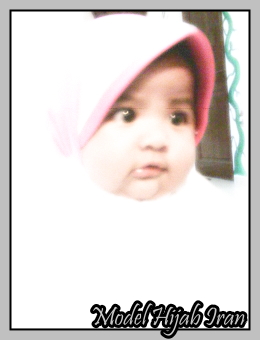 Sungguh the AYU. 'Nuff said. Selamat Hari Raya Haji, y'all.
Filed under:
My Life
—
1 Comment »