A Mount Alvernia baby boy born on April Fool's Day. Just like Witt's Big Ben and Pe'ah. Hehe. The 1st April part, I mean.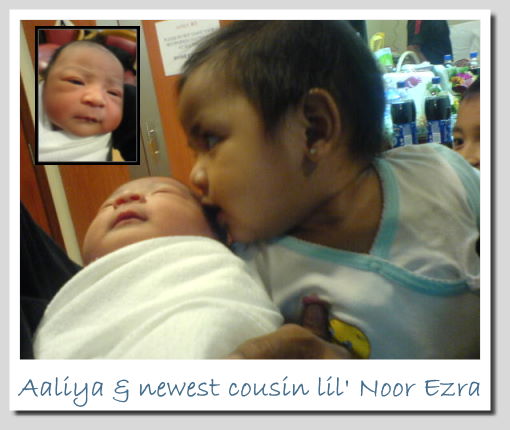 I am taking in all the baby boy blessings at the mo'. It'll be great if my no. 2 is a boy. Can close factory. *lol* But if it's a girl also, it doesn't really matter. Aaliya will have a partner to play 'masak-masak' with. And it'll be another excuse for me to buy accesories and doll my princesses alike. Heh. Factory will still?be closed too. It's just too expensive living?these days. It'll be great to have 4?or more kids like our mothers have, but then, looking at how some big families are struggling and applying for help here and there, I don't think I can or want to.
And no, I'm not having no. 2 at the mo'.? =p? Nothing wrong in looking ahead, right? Even if it's miles and miles?away. =p
My menses have gone completely haywire. It's always late by 2 days from the previous date. Thinking it's probably the stress or changes to my cycle. And also due to my 'gone-bonkers' diet. Been snacking at work instead of having meals. Been eating lots and lots of peanuts. Gosh. Shall prolly stop snacking. Will start starving myself. I'm getting more-and-more horizontally challenged. Which pretty much worries me. I'll have to lose weight before I start thinking of baby no. 2.
And, oh. My luck finally ran out.
3rd of April.
*lol*
Filed under:
My Life
—
4 Comments »