Right now, I'm actually feeling very tired. A lot of deadlines to meet, different sets of teaching materials to make what with differentiated instructions and all and also not to mention, the massive amounts of markings to finish – which, I still can't finish by this week since I'll be on course after school tomorrow and Friday. And to make matters even worse, I have a briefing to attend on Saturday which means I can't head down to school to mark on that day as well.
M-a-j-o-r bummer.
Another reason why I'm feeling rather fatigue, well, you guessed it. However, I don't feel a thing when I move up and down or around the school. (Hmm… Dy's sleeping so comfortably on the bed right now. He's even occupying MY side of the bed. Poor man. He slept sitting down in front of the PC with his hands on the keyboard just 15 mins ago! Woke him up to tell him to shut it down and go to bed. Oh well, I digress.) I feel very tired when I finally get to sit down and rest. The whole day's ache finally sinks in as I slump into my office chair. But as I try to laze at my workstation, the pile-up just doesn't help me feel relaxed at all. Sheesh.
Today, Baby A has been moving quite a lot. Though it does tire me out that I have him/her whirling and bumping around in my tummy all day, but at the same time, every move makes me smile thinking of the miracle God has blessed me with. So, in the end, I wear myself out with excitement. Dy & I bought a 5-tier cupboard for Baby A from Toyogo the other day. And since it bothered me that it was empty, I dragged Dy to buy something for Baby A's usage. Heh. As much as I can't wait to meet Baby A in person, I am feeling a tad scared about the whole delivery episode and all. Am 24 weeks now, so, I have like 3 more months to go.
Oh well, since we're on the subject of tummy and everything, my school commemorated TDDay yesterday. Teachers in my school were told to wear something related to TD as a surprise for the kids. My bro was in the army during his NS days but since I couldn't button most of his shirt when I put it on and couldn't even fit my leg into his pants, I opted to try to wear Dy's no.4 uniform. Miraculously, I could fit in it – a remark shared by many. (though, little did they know that I generally had to stand most of the time since the bulky belt crammed me tummy.. =P )
So, this is me in the uniform.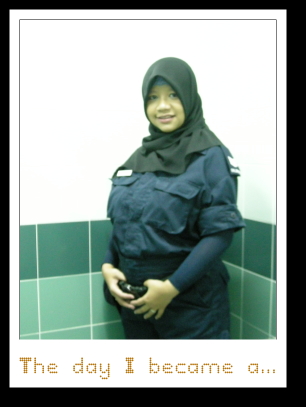 Yes, very much like a blue, fire-fighting Teletummy. =p
Do not even talk to me about my boobies. *rolls eyes* But if you're wondering why my eyes are looking sepet, well, attribute that to waking up early just to struggle with the uniform. And if you're also wondering why I didn't put the CD cap on, believe me, I tried when I was at home. I looked ridiculous. I didn't like the way it made me look like the R-a-k-a-n C-o-p from across you know where.
I am SO going to make sure I fit nicely into Dy's uniform the next time I try it on. Which means, minus the bulge. Dy already told me he wants me to wear that uniform when we…. *lol*
Aight, with that, I shall try to roll Dy out from my side of the bed, and tuck myself in as well. Night!
Filed under:
My Life
—
2 Comments »