Aaliya is sleeping at the moment on my bed using my big pillows. Macam dah besar sangat gitu budak ni. So I get to sit in front of the pc to sort out her pics which is plenty cos' this lil' girl knows how to pose for the camera, mind you,?and play?my newly bought SIMS 2?Bon Voyage. Hurrah!
Yesterday, I brought Aaliya to her 2nd Hep B injection. There were quite a number of babies there as well and from the look of it, they were around Aaliya's age. But, my baby outsized them all, hands down! My goodness. It ws funny to see how big my girl is. As I compared, I realized she's as big as 3 month old! All the other 1 month old boys and girls were so tiny and fragile, and there I was carrying my chubby baby who had kicks you could not believe would come from a 1 month old.
However, I didn't like the way the nurse there put it to me. She said Aaliya was overweight. Can you imagine! OVERWEIGHT?! I was kinda pissed off with the way she put it to me, but looking at the weight and month chart, Aaliya was clearly above any of the curves. *lol* Consolation for me is, I measured her height?and it kinda looks like she's off the charts too so I'm at least pacified that she's getting taller as much as she's gaining weight.?Hmmm… well, when she got injected, her eyes opened really wide and she gave a loud wail for about 5 seconds and then stopped. Hehe.. banyak lemak agaknya jadi tak rasa sangat.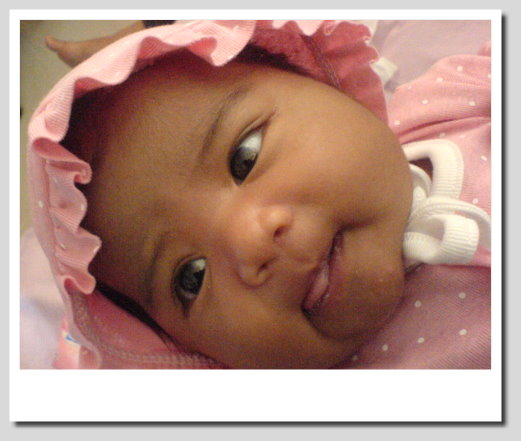 That's my Lil' Pink Riding Hood-ed, darling, 5.57kg,?baby. Hehe.. tembam macam iboo & ayahnya juga. *lol*
?
Filed under:
My Life
—
3 Comments »