It's frustrating to teach a class where you stand there like a broken record, trying to teach something, and kids are playing hand-games with their friends, having peer bonding conversations, yapping loudly to every single point you make, making yawning noises just to catch others' attention and not bringing their books. It's definitely frustrating and gave me the justified reasons to leave the class before the end of class itself. Thankfully, I walked out of the class 1 minute before bell rung for the next class so, in a way, it minimised the risk of me getting into trouble. But then again, the silence that I 'heard' in the class as I stood there declaring how rude and inconsiderate and how unpleasant it was to teach them (and how I could't care less about what they want to do the next time and finally walked out), the silence was beautiful.
I walked out of a class for the first time this year.  Thought I'd mellowed but apparently, the young blood in me is still very volatile. But what I had to endure today, was really pushing it, really.
I think this is precisely why God made me a MT teacher.
**************************************************
On a nicer note, I tried the briani in school today. Just for the sheer fun of trying.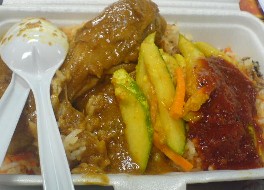 It's Thursday and briani is the special for the day. $2 is all it costs. It was ok. A bit too curry-ish for my taste. I'm not much of a curry or dalca person. I'm more of a ayam masak merah kinda person. Si, this briani is just ok for me.
And yeah, I did come cookies over last weekend. If there's one thing I can bake properly, it has to be ONLY cookies. Choc chip ones at that. Haha. Pathetic. Btw, the top pic is when it was full and the one below was just 2 days later.. *hums* Who stole the cookie from the cookie jar….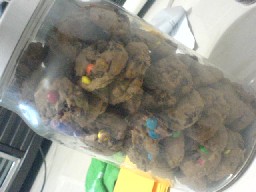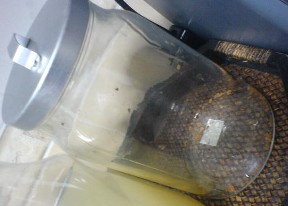 And on an even happier note for me, hurrah to me for having the complete Happy Meal toys of the week – TMNT.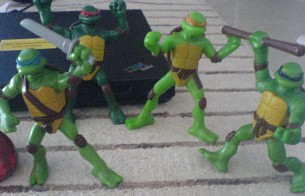 Filed under:
My Life
—
6 Comments »