Sigh.
Sigh.
Don't mind me though. It's always like this on the eve of first day. It's like a disease which plagues me every single day before a start of a new term. I'd either feel excited, dreadful or in today's case, blank.
Yeah, I feel rather blank. Zilch. Kosong. Maybe it's because of that dizzy/nausea spells I've been getting. It's rather irritating that one moment I'm fine doing work and the next, I feel like falling. So, I told me mum, that if tomorrow I felt like that at work, I'll call her and head down to CHosp. or something. I mean almost a month of it, and it's quite worrying.
Anyhows, I'm not actually dreading the thought of going back to school. In fact, I'm kinda missing the kids a little. Their idiosyncrasies are all part of the fun. Kinda liven up the job amidst all the paperwork and markings.
Yesterday brought some of me kids to the Sri-wana production @ Queenstow-N CC. The drama section they had really reminded me of JC times. I mean, back then, we had Manifes-tasi with drama and tarian and all. I was involved in DK at that time. I wasn't actually thrilled about being involved with so many 'elites' and all but then, DK was fun and I had Tween-O and Chewie with me. Bedah too, on percussion. Hehe.
Sorry, I digressed. Anyways, I brought the kids to see the production to sorta like get them a bit more exposure. My school's niche area is basically Chi-nese Dance and Orchestra so, my kids don't really have anything up for them. They only have me to teach them tarian and I am actually one of the last few people to CHOREOGRAPH any tarian. So I thought bringing them to the dance performance was a good idea. And yeah, they enjoyed it. More since one of my kids was performing in it too. Heheh.. cute.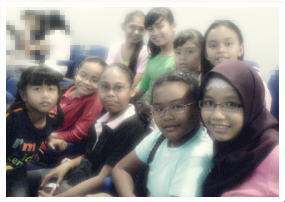 Oh, they say the one beside me looks like me. Hmm..
And today, I did that mango pudding I bought from the supermarket. *LOL* I have become such a lowly chef to depend on instant puddings.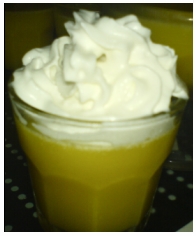 Put it into my small vodka cups and gave a little swirl of decadent whipping cream. Dy loved it. Hehe. I promise you, baby, I'll bake you some brownies and cookies this June holidays, ok?
Speaking of June, it's 76 days till our 1st anniversary. And since it'll be a Sunday, time to plan for that perfect small little weekend getaway. *rubs hands together* Now, where shall I start looking………………………………..
Filed under:
My Life
—
1 Comment »