The week had been rather hectic what with exams and all. Of course most teachers would agree that during exam period, the stress is more on teachers than the kids, contrary to popular belief. Kids these days, some of them can't even be bothered. It's funny how some are blessed with an o.k brain sometimes take it for granted but those who are a bit slower, try and try but can't make it. It's rather unfair.. but that's the way life goes, I guess.
Anyhow, tomorrow will be the start of another hectic week. The big papers start rolling in and I'm holding my breath to what my little ones are going to do about it. Too bad I wouldn't be around that day to see their smiling/glum faces after the exams are over. While their doing their exams, I'd be going through mine – at CGH. Yeah, that Gastroscopy thingy mid-week. The brochure they gave, well, made it sound rather scary what with the word day-surgery on it. According to it, I'll be given anesthesia, then they'll put that not-so-tiny camera+tube into my mouth down my gullet into my gastric area to check out what's wrong with it. Of course, I'm as scared as hell with people around me asking it and then giving me that "Urgh!" face and then giving their own accounts of how it's going to be. I mean, HALLO! I need to be calm here, you're not helping!
I'm glad Dy decided to take leave to accompany me on that day. I mean, just getting anesthesia from the dentist to remove my molar already made me mouth numb and drooly. Imagine this. Ah well, pray for me, yah? Who cares how much it costs.. even if nothing's wrong, at least I get closure. Reassurance.
So, to end this week and till maybe after that "day-surgery", here's what I did during the week. Heh.  After the hospital appointment last Monday, I decided to cook. Mum told me cook nasi ayam, so, I pried open the recipe cabinet I have in my memory storage to see if I could remember how I did it the last time. Of course, last time my mum was there to supervise me. On Monday though, my mum was out. And to my horror of horrors, I found a WHOLE chicken, uncut! How in the world am I gonna cut up this chicken? So I tried visualising chicken parts and cutting it, apologising to the poor chicken under my breath.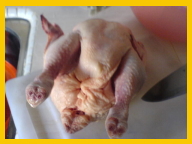 Thank God, the chicken looked like chicken in parts in the end and I did 2 types of chicken – honeyed and the traditional turmeric version since Dy preferred fried ones.
With "kunyit" chicken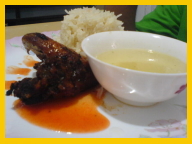 With honey chicken and sauce
And here's a satisfied customer. (or maybe he was just being polite.. =P )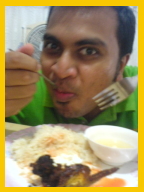 For dessert, flourless choc cake. Got it from the cupcake lady's blog. Tried. Haha. But since it was mostly chocolate, it was finished in no time.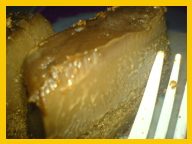 And my Saturday? What better to end it than to have a Spidey weekend? Ok, so it was my second time this week. Heh. With a BK toy of Venom to boot! Hurrah! (By the way, that popcorn carrier, I ASKED the popcorn boy for it. The boy obliged! Thank you popcorn boy Haziq!)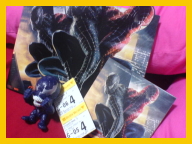 Filed under:
My Life
—
4 Comments »