Before I start, found this among the stashes of photos & vids I've yet to sort out. Made me smile despite how miserable I feel having the tissue box on standby beside me for wiping off??an incessant runny nose. Taken during our trip to the zoo with Aaliya's Auntie Suhaila & Uncle Noh.
?
Cliche as it may sounds, time's whizzing by so fast. Aaliya's gonna be 8 months in 3 days time and it's already almost into the 5th week of Term 1 and that means exams are around the corner. Which is scary, really. These past few days, I've been plagues by a teacher's worst enemy – besides *** kids of course – Mr. Sore Throat. Now, I'm having a flu. Which is why CNY long break is so welcomed. All these are just a prelude to my Red Alert time of the month, I tell ya. My body's crazy like that.
Anyhows, I had a crazy incident just a few days back. Friday actually. I had my patience tested and I did something I'm not proud of, definitely. The last time I lost my cool was like 3 years ago, during my first few months in school. I've calmed and?mellowed since but somehow, the button got pushed again. Needless to say, I had some calling up to do, to explain the situation. Thank God I was understood. Me not gonna write about it here since I do have some of my nosy kids lurking around here and asking questions in school, so, PM me on MSN if you guys wanna know about it, yeah?
Speaking of work, this is my workspace taken after I finished with my stacks of books. Yes, I have a rug underneath and people do have to take their shoes off in the area. *lol*. Yeaps, there's a shoe rack just beside where I stand while taking this picture.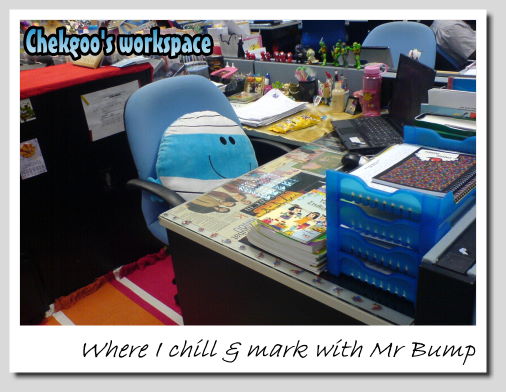 Since I'm around fellow chocoholics, Cikgu Zana & Alia, we've dedicated this space on my cabinet for the putting of this sinful snack. Want some? Hehe..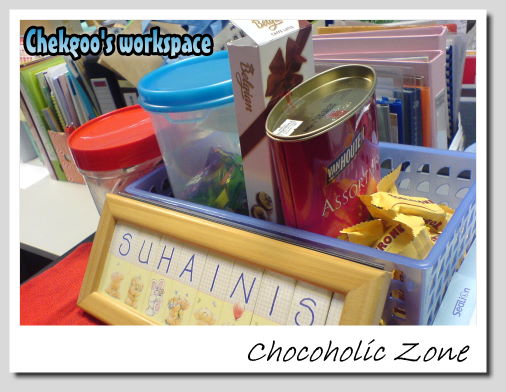 Speaking of chocholates, Aaliya has hers too.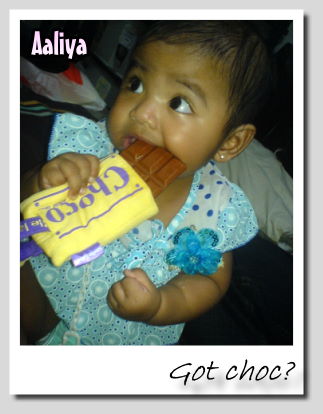 Her teether. I just hope she doesn't get hooked on chocs like her mum & god-aunts does. =p But then again, I did swipe a bit of choc into her mouth the other day. Haha. It's so much fun seating her on the baby chairs when we go out to eat. She minds her own business and also what is on our plates.?Always have to be wary of her hands. This?girl's quick to pull anything within her grasp.?The other day, she made the funniest sound. If you all know how Bruce Lee always makes that wailing sound when he's fighting, yes, that's what she did… "Wataaaaaaaaaaaak…." Hehehe… and a long one at that! Lucky Dy to have his daughter turn out like his favourite martial arts guy.
And here are some of the recent pics I managed to upload. There are loads more, of course. Just too pre-occupied with my nose at the mo'. Sigh, when will I even upload the December Malacca trip? *lol These days, this little girl's begun 'wanting' stuff. When I try to take her out from the tub after a bath, she resents by making noise. (she's already sitting in the tub on her own by the way). When I take away my handphone or whatever thing's she's been eyeing, she makes noise. When I brought her out of the swimming pool after a swim, she makes noise. And yes, latest is this…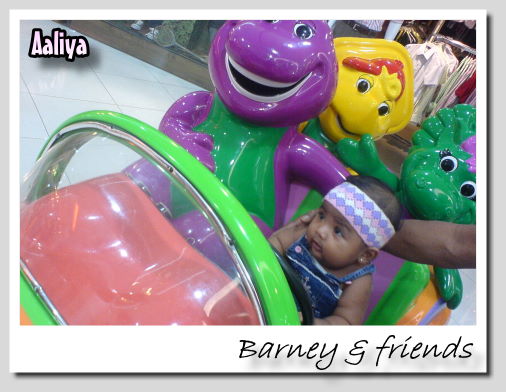 Hehe… these rides are freaking expensive this days. $1 as opposed to 20cents during my time. Lil' Girl, we go here sometimes-sometimes only, ok? Later no money buy your pampers, darling. Times are bad.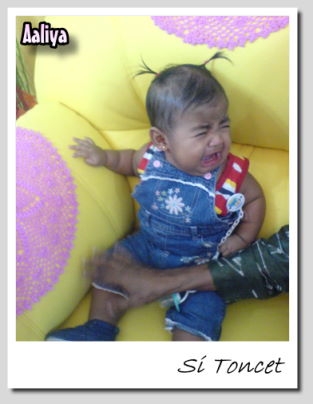 Awwww, don't cry. We can go. Just not often.?Hehe. And I've started bringing her to night class wearing this.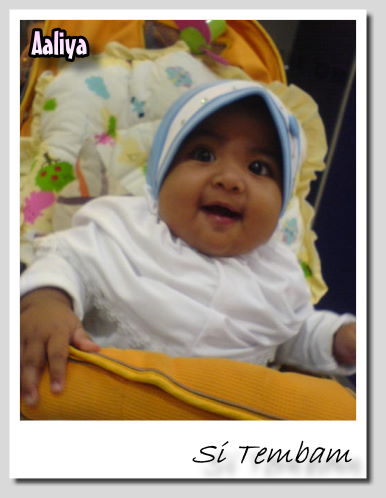 The nights have been rather cold so, she's been alright wearing this so far. Really accentuates her more-than-chubby cheeks. Bite-able.
Aight, I'll be off now.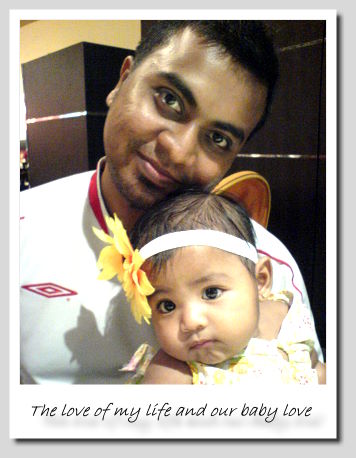 Filed under:
My Life
—
3 Comments »