Praises be to Him for letting me and Baby A2 reach this far.
I've been anticipating the 5th month mark since that'll be the time for the screening. I even had nightmares about missing the appointment. In one nightmare, I was late for the appointment and they said I had to wait a few weeks more. And for another, I forgot all about it. Ish!
But thankfully, I made it and yes, I was definitely pleased to see the lil' life in me. Getting to see the various organs as they should be and the various?vessels and blood flow and the heart pumping well, really made my day. It also made me thank God for this miracle cos' seeing a developed spine, kidneys and stuff, from just a tiny blob of blood just months before, it's just, mindblowing.
The lil' one wasn't exactly pleased cos the sono-lady pressed on my tummy a weeny bit too hard. I could see Baby A2 squirming inside a few times. I think at that time, Baby A2 must have been sleeping or resting or something. Yes, like I said, I've felt Baby A2 move since our 4th month and now, I can already see my tummy moving a bit when he/she bumps or kicks me. Like, right now, he/she is actively moving around. And the lil' nudges on the tummy makes me smile everytime.
Oh, yes, yes. Look at the hand on this one. A Muhammad.Ali move. Heh.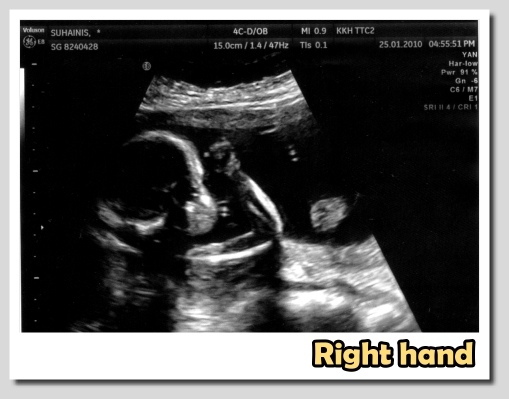 And look at that thigh. *lol* Could be another juicy drumstick like the Kakak Aaliya. I laughed when the sono-lady put the scanner thingy on my tummy. Cos' the first thing I saw was that round thing on Baby A2's chest and it looked like he/she was blowing a bubble. The sono-lady told me to stop laughing. Hehe. It's Baby A2's left fist it seems. *lol*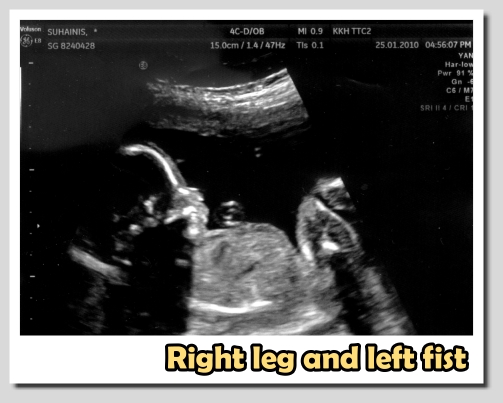 So, yeaps. I'm glad that Baby A2's doing well. My gynae told me though, that this one's prolly?gonna be another big baby since the report indicated a medium-big size fetus. I told her, then she'll have to cut me again then. She said that remains to seen. When the time gets nearer then we can decide.
I mean, I don't mind that Baby A2's gonna be another big one. I mean, as long as he/she is healthy, for me, being cut open is no big deal. If fate has it that I'm meant to deliver babies via caesar and never get to experience normal delivery, so be it. As long as my babies get into this world alive and well, I'm more than contented.
Besides, it'll be another pair of chubby cheeks for me to bite into. Heh.
As for gender…………… we couldn't really get a confirmation on that one.
Like my gynae said, that's the least important of all. What's important is all the other vitals look good.
So, you guys just have to wait till he/she finally pops out from the oven. Heh…
Alritey, time to go to bed. Hopefully Aaliya sleeps better tonight. She's starting to have flu and didn't sleep well last night. Nitez peeps.
Filed under:
My Life
—
Leave A Comment »