Although it's Monday and the prevailing mood of most people would be summed up by the colour blue, I'm feeling far from that. Met the 2 ladies of 3SHA. Hehe.. Tween & Witt. Witt gave us cookies and the time was spent walking, but also, catching up on our lives. Which was, like old times. I love you girls. And yes, Ain, they are garang just like me but in our different ways. *lol*
It is a day-off, being Youth Day and all. But I'm still on the clouds with the nice day I had yesterday.
Sometimes on ridiculous days, I would start the day bickering with Dy. But, no, yesterday was a perfect start to the morning. Everything felt like it was floating and stuff like that. In fact, I didn't think I was angry about anything for the whole day. Which prolly meant my mood swing decided to take the day off. Then we went down to the Charity Carnival at Da-rul Ma'-wa. Initially, I wasn't actually excited about going albeit the show having the delicious A-nuar Z-ain as the highlight. It was hot and waiting up for the stars wasn't really a great idea.
But, I got hooked. When I came, Sg singer Didi-cazli was on stage. He sounded real good live and of course, I loved his "Dambaan" song. Then came the duo S-leeq. They were good, too. So, we stayed on since Im-ran Aj-main was coming up and it was worth it. I mean, since that DJ Ha-feez sorta kutuk-ed Im-ran during the Anu-gerah show, I was waiting to hear what it was all about. Hoho, the guy sounded really good. All the falsettos were good as he belted out 3 songs, the last being "Se-ribu Ta-hun" or something. Brilliant.
And yes, the emcees hyped it up so high that I was actually excited waiting for Mr A-nuar! Hehehe…
The best part was, he came down to the audience and shook hands with the people. He made this woman sing with him. She's like 2 seats in front of me. Good thing he concentrated on the right side of the audience. Lucky for me.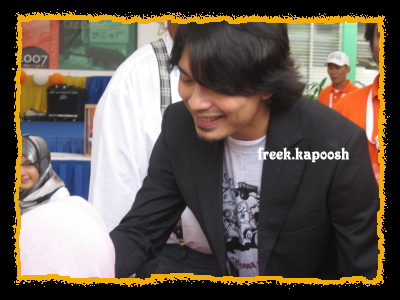 Then he sang to people at the back and yes, full view is what I got. Hehe..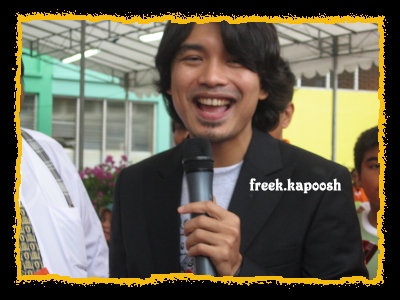 He inched his way further down and shook hands with the people beside me.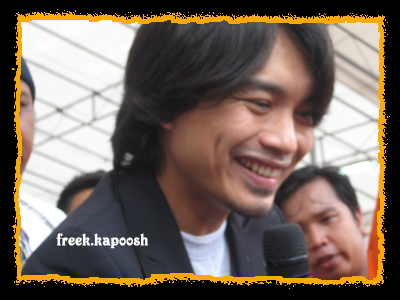 Since Dy warned me not to shake hands with him(dang!), all I could do was wave to A-nuar and… and… hehe… he waved back, smiled and winked! Woohoo! Wa cair ah!
*blush*
I think Dy caught that using his handphone. All my cheerings, well, can be heard if you were to watch back the video he & I took. After the shaking hands, the guy went back up, and sang one of my favourite A-nuar songs, "Mungkin". I wanted to go up front and record it from in front of the stage like some of the teenagers were already doing. After some encouragement from the lady in front of me who was pissed that her battery died, I went. Hehe. Pergilah, dik! Tak pergi rugi seyy… she said. Halfway, my battery went flat, I rushed behind to get spare batteries, and got there in time for the part I was dying to hear most. Woohoo! I guess I was a tad too loud cos one of the Ma'-wa volunteers off-stage guarding, looked at me in bewilderment. Hehe… aku lupa yang aku ni bukan kat stadium tengok concert BSB lah, brader..
Sigh… naturally, I was very excited all the way home and I thank Dy for being oh-so-understanding about it. Hehe… ah well, it's not everyday you get winked by one of the good-looking artistes around. A very good consolation for me for not getting to shake his hand or, for a really fanatic makcik, hug the man. Hahaha… that is xiao level.
Aight, off to sleep now. Nightey night everyone. Back to Earth. *lol*
Filed under:
My Life
—
4 Comments »