Gosh, Monday was over so fast. Sigh. Currently having a love-hate relationship with Friday. I can't wait for the gathering this Friday but at the same time, Friday means the term break is almost over. Which is a bummer. Really.
Anyhows, if you had been to Toa Payoh Hub last Saturday, you probably had seen a naked baby being carried around the area. Heh. Due to a wardrobe malfunction (Aaliya pooed all the way up to ther dress in the car), Dy & I had to go get some clothes for her at the Kiddy Palace there. So, only in her Pampers, with her chunky thighs and body exposed for the world to see, I carried her all the way ignoring the looks of passers-by. However, upon reaching the car, found that Dy had already brought a spare set of clothes which he forgot all about. But no matter, more clothes for her is always good. Heh. Shall not talk about the IT Show @ Suntec, though. I hope to NEVER go there again.
She's been able to eat cooked food now. Been cooking her rice (a bit to the porridge side) and putting in vege/meat/chicken into them. However, like me, she likes bread more. I'm thankful that this holiday, I'll get a chance to cook food for her. And Dy. Tsk. But it's already a Tuesday. *sulks* Ah well, shall make the best of it.
It has been fun these past few weeks. Aaliya has turned out to be a little drama queen. When I 'scold' her, she would first give the Puss-in-Boots-in-Shrek look with her big, round?eyes looking at me asking for sympathy. If that doesnt work, she'll squint both her eyes in the saddest way possible and give the most melancholic downturned smile as if asking for mercy. Hehe. Kalau bab being drama mama, pastinya bukan dari aku lor.?When she gets near her lil' cousin, she would bring her body forward cos she wants to kiss the little girl. But if you really look closely, this daling of mine actually puts her pout on the baby to lick her. *lol* It's also been fun to see her smiling all the time. Like my colleagues say, she's a happy and friendly baby. When we put her on the supermarket trolley, she'll be kicking her legs around, clapping and smiling. Like the other day, she waved at one salesperson and clapped her hands at the cashier. Heeh. Orang geramkan pipi dia tu bila dia senyum. Dan paha!
?Tell me, what's not to like?
?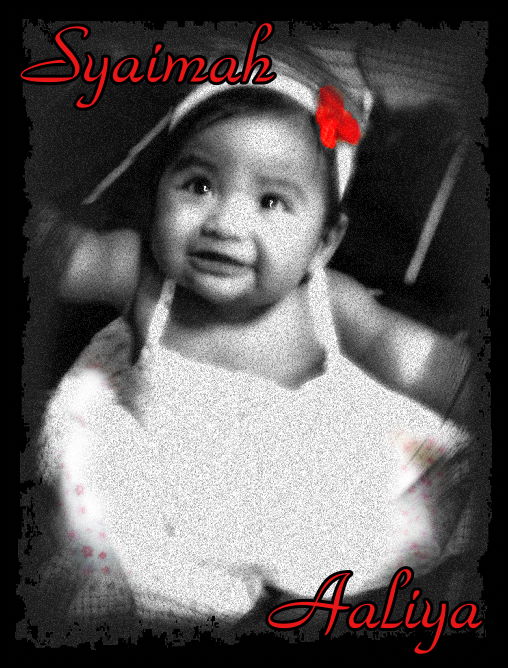 Filed under:
My Life
—
2 Comments »