This year, is the 3rd T-cher's Day I'm celebrating as a teacher. This year, is a bit special. This year, the students were officially reminded not to buy anything for the teachers. Rather, they were told to make cards instead. Naturally, I was excited since I'm a sucker for self-made stuff and besides, I know how hard it is for some of the kids to even have pocket money for school, let alone buy anything as gifts.
But the ultimate gift for teachers, or, to me at least, is that, the kids do well in their lives once they leave us. Being in a primary school, teachers can only do so much. There are still a lot of paths for the children to tread. Small feet come and go. But hopefully, those small feet will take big steps and at the end of it all, become successful people in whatever it is they want to become.
I thus thank my teachers for being part of what I am today. My parents and friends definitely played a part in my growing years but my teachers, too, had an effect in me. Back during secondary school years, a few teachers really inspired me and touched my life. I was proud of what I achieved back during those 4 years. And it was during the last 2 of those 4 years that had an impact on me.
My chemistry teacher, Mrs Ong, who broke down in front of us because she was worried about us, made me realize how sincere some teachers are to see us succeed. My geog teacher, Mr Tay, who to this day, keeps in touch of us showed me how down-to-earth a teacher has to be in order to be respected by students. My English teacher, Mr Mohan, who gives opportunities for us to better our English despite how much we all dreaded Compre. My Maths teacher, who told me that she believed in me and said she wouldn't give up on me despite me not believing in myself. Thank you teachers for making a difference in my life.
When I was in J.C, I learned what kind of teacher I SHOULD NOT be. My Chem teacher put me down so much, I almost stopped persevering if not for my friends. I flunked J.C, but plunging into the world of pedagogy, I will always remember how I should not be when I finally teach.
Being in the profession opened my eyes up to a lot of things. First and foremost, it made me a bit more confident. As much as I am the teacher in class, I am also the learner. When I discuss with the children about life, I learn about their lives and better mine. When I encourage the pupils to be confident on stage, I learn to be more confident myself.
I learn, therefore I teach. I teach, therefore I learn. I understand that proverb now, too.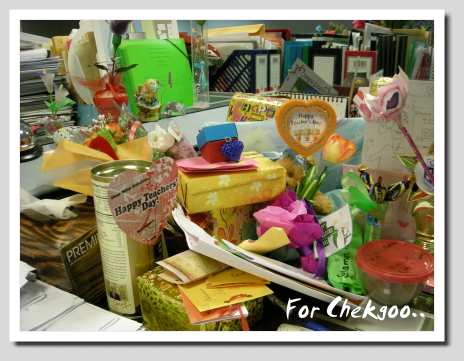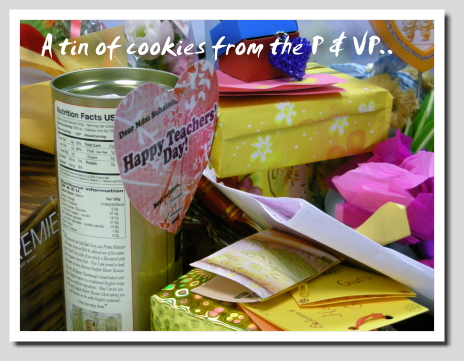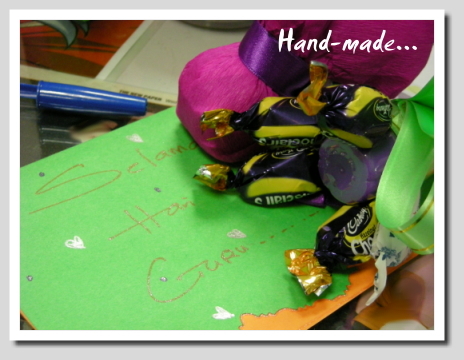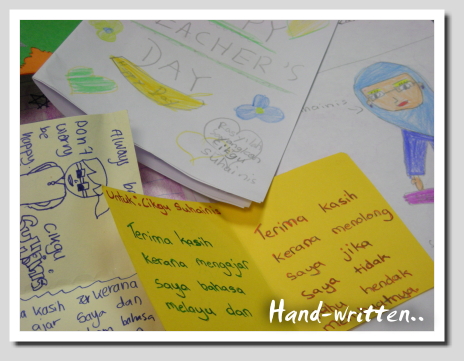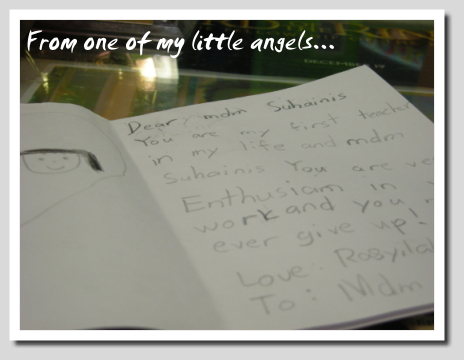 I so love this handphone thingy given to all teachers by the Parent Support Group. I especially love the box. The ultimate red-blue Spidey combi. Heh.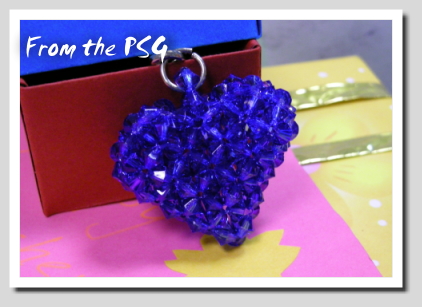 This card below was done by another one of my little angels.
My bigger ones performed a dance number to the sound of Limbo Rock. And I knew exactly who one of them were going to pull up to the stage when they started descending the steps. Haha.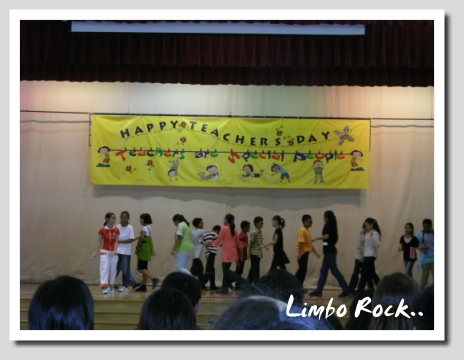 As always, we had our Teachers' Day lunch after that. Although most people find it boring when I say that my school has the T-chers' Day lunch in school, I think it's more convenient this way.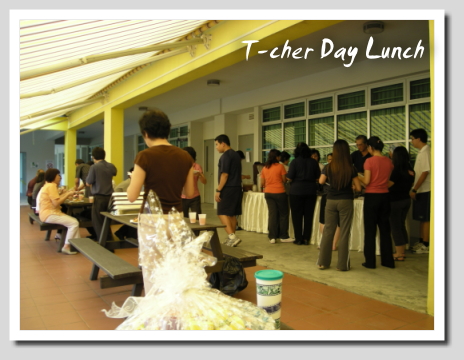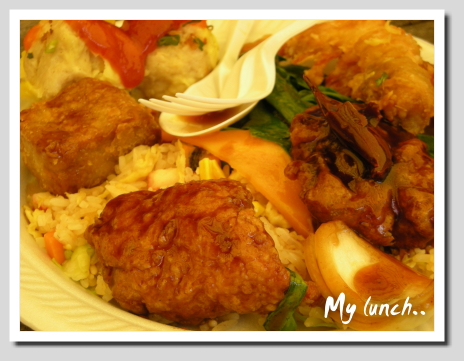 And with that, another term ends. It is now the start of a week-long holiday before another 10-week school term.
The last term before the kids get a year older and a step further towards adulthood.
Filed under:
My Life
—
2 Comments »