It's amazing that it's already the end of the 6th week of the term. Which means, 2 weeks left till big mid-exams and then 2 more weeks after that is that much-awaited 1 month break.
Today has been a long day though, technically, it's supposed to be my best day of the week. But, yeah, had to carry out oral exams. From 11.45 to 4.30pm, with a 30-min break in between. Yesterday, I almost dozed off a few times. My only salvation was when the kids suddenly read one word extra loud or when my head made a jerk to the side. *lol* It was more of those 3-second naps. Sheesh. But yeah, today was better. Had buah assam with me. Yesterday, had one of those funny moments with one of my little ones. He was trying to describe the picture to me and there was a picture of a teacher in it.
Boy: Errmm… cikgu, "teacher" dalam bahasa melayu apa eh?
And I went, *lol*, and said, Awak panggil saya apa, H? And he gave me a sheepish smile.
Ahh well, cute little boy. Gonna miss them this long weekend. Did I say long weekend? Yeah, getting MC on Monday. My older ones said, "Wah, cikgu tahu seyy Monday nak sakit!" But of course, I'll be absent since I have a med. apptment. "Wahh, cikgu nak beranak eh?" They said. "Saya belum mengandung lagi macam mana nak beranak?!"
But, if that were the case, it would have been fun. Unfortunately, I'm going to hopefully get a scope through my mouth into my stomach to address that irritating gastric bouts I've been having. Finally.
***********************************************************
Today is the 25th birthday of one of my dear friends from Kg. Clan. 3 days ago, it was Bedah's, and today it is Joyah a.k.a Witt. I almost forgot how old we were getting when I wrote in her birthday card that we'd reach our quarter of a century next year. Then, I got pulled back to Earth, dang! I'd be 25 too this year. Haha.. seems only yesterday since I saw my first R21 movie in 2003. But it's ok, being the last to have my birthday , I get to enjoy being 24.. ermm… somehow, longer in 2007. Ok, crap. Anyhows, Tween-o and I decided to be random on Wed when we packed loads of pink stuff ranging from handbag and blouse to pencil box and shower caps(yikes!).. as you can see here. All stuffed in a big pink box.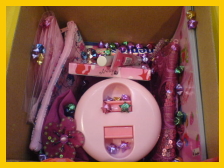 Since Witt mentioned in her meme that she hated pink with a passion I decided to convert her. I mean, back in JC, I was anti-pink too. Rugged and all. Till, I became.. a girl some years back. Haha. Anyhows, with her hints too, I made her a batch of cookies in that jar.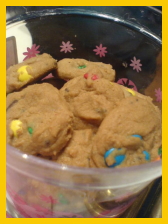 Of course, by now, when we ask each other out nearing each other's birthdays, it would be to have a celebration. So, no surprise there. She expected it but what she did not expect was the PINK stuff… as you can see in this picture: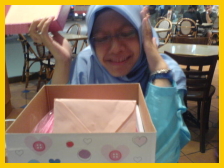 *lol* Priceless I tell you.
She attacked my cookies first though while chanting, "You guys have got to be kidding me!", "Argh.. pink!" And oh, since I made extra cookies, I passed some of them to Ain. Hehe… glad she and her bro liked it too cos Witt finished up her whole jar in a day. *lol*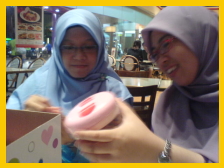 After a while though, I guess she finally embraced her presents.
To Witt, happy 25th birthday. Thanks for all that you have done for me throughout our frenship. You've salvaged me a few times in my life. And you brought Dy to me. Semoga dipanjangkan umur, dimurahkan rezeki dan jodoh berkekalan. Amin. *muacks to you*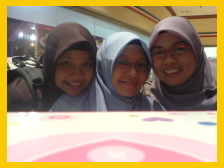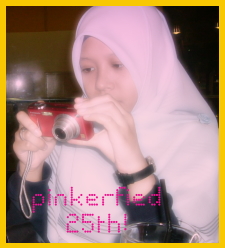 Filed under:
My Life
—
5 Comments »