Inspired by Sis Alateriel & Baby Auni?I decided to send Aaliya for circumcision & ear-piercing.
Actually, I have been meaning to send her earlier. But since Doc B at the clinic near my area only does circumcision for babies?3-months and older and ear-piercing from 6-months onwards, I couldn't. But, I suddenly remembered about Dr M in Tampines?and?asked Dy to call to set an appointment.
I told Dy not to inform any of our parents about it as I wanted to bring her myself. He asked me if I was sure I wanted to do it myself?cos' he?told me that most of his friends got their moms to bring their babies for circumcision & piercing and reminded me of what a cry-baby I was when it came to things done on Aaliya. But I was adamant.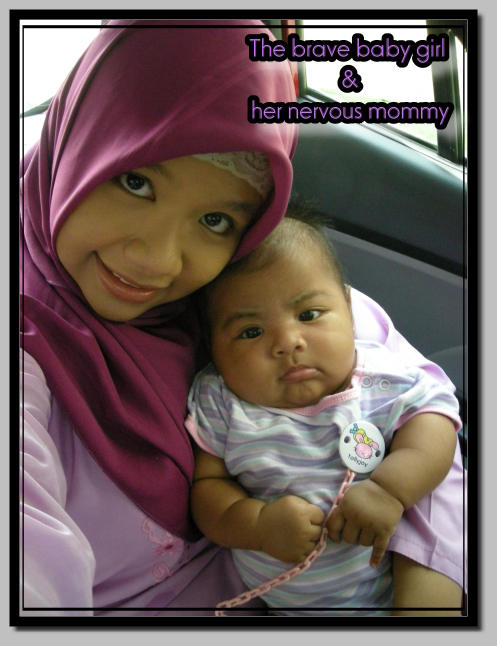 Of course, while waiting to go into the doc's office, I was nervous as hell. Took deep, deep breaths and paced back and forth with Aaliya in my arms. Thankfully there were only 1 or 2 patients in the clinic but I bet I must have drove them crazy.?When it was time, I gained my composure, and selawat lotsa times. As I expected, Aaliya?wailed the minute I put her on the doc's bed. She really hates it when we lay her down when she hasn't got enough of being carried. So, basically she was crying because she was put on the bed and not because she was cut.
And then, it was time for ear-piercing. Doc told me to hold?Aaliya real tight so that she couldn't move. But Aaliya is a strong girl and even doc was surprised. So, Dy took over since he has bigger and stronger arms. Aaliya was screaming so loudly at being held tight and even louder when the studs pierced her, I was almost going to climb up the wall. RewardedPacified her with a bottle of milk after that?and all was quiet although amidst the drinking, she 'complained' and 'complained' for putting her through the pain. Hahah.?Kecik-kecik dah pandai ngomel lor.
And so, in a matter of those?minutes, my baby has finally been circumcised and has a lovely pair of studs on her ears. Alhamdullilah. And now, for that 3-month old medical check-up & the many-in-1 immunisation on 1st September.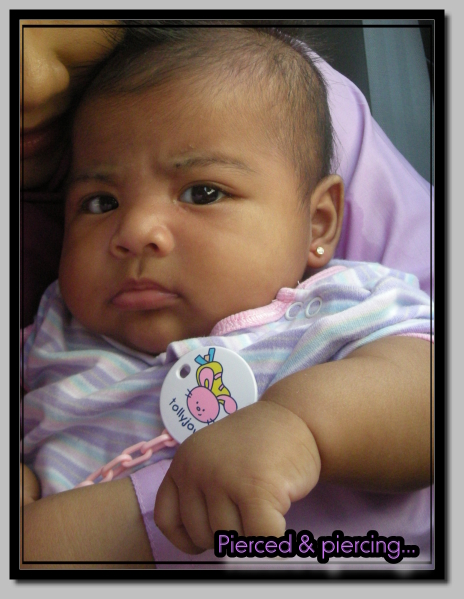 Notice how she always looks at the camera when I'm taking her picture? It's almost as if she already understands what to do when she sees that metallic-silver?rectangular?object with a round thing protruding out in the centre.?Heh. Fierce anak aku.
Jadi kalau sesiapa masih tanya lagi anak aku lelaki ke pompuan, meh sini aku cocok lobang kat telinga korang sikit. Baru aku bagi tau jawapannya.
Filed under:
My Life
—
2 Comments »