Well, ok. i'm not exactly physically tired since I'm still on maternity leave and all.
Just mentally exhausted. Especially about blogging.
I mean, I blog-hop around and there are so many people out there with such colourful lives and they have much to blog about. Me, on the other hand, live my life in mono. Ok, I could be exaggerating there a weeny bit. There are many things that?go on in my life every day now with having my own family and all, I just think blogging about it, is?kinda like, redundant. First and foremost, it's exhausting typing things out in English. Secondly, I doubt I get any visitors at all to this site.
So, I'm contemplating on whether to even continue with this. Cos' there's that little voice in my head telling me that blogging's?one of the few?ways I get to?practise my English since I'll be using Malay when I teach everyday. And also, a blog is one 'diary' that has been with me since, well, since before I met Dy. I get intrigued when I re-read all my entries from that time and I bet a few years down the road, I'll be pleasantly surprised with what I've typed in 20-08.
So, I dunno. Kinda stuck in a rut here.
*****************************************************************************************
On a lighter note, Dy has started school already. And I feel like a proud mother on her son's first day of school. Dy, blajar betul2, k? Ini NIE tau? Jangan main2 nanti anak kita takde pampers.
And speaking of anak, Aaliya received her first bling-bling from her maternal nenek a.k.a my mom. She found a smaller version of her own locket and so, bought it for Aaliya. I, for one, am not into accessories, so…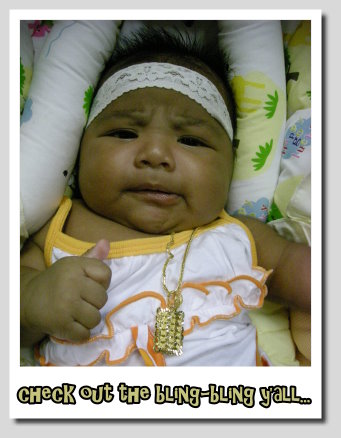 Yes, Aaliya's getting chubbier by the day. Which makes?her?cheeks?all the more irresistable to kiss and romos.?But for me, I bite them. Wakaka… good thing she's getting taller too, though. Else she'd prolly be?like Marshmellow Man with all the arm 'muscle' she has.
She's beginning to talk and laugh back to us when we talk to her. Her longest was a 3-syllabic gibberish response. Heh. She also actively kicks her legs and waves her arm around when she's excited by the mobile on her cot. She looks intensely at the pictures in the books i bought for her. And she watches tv. Ahakz. Though it has only been 2 days, but she has been sleeping the nights quite well these past days. But one thing's for sure, when she hasn't got enough of milk, she'll cry and in the midst, you can hear her scream, "A-YER!" (as in 'air' or 'water' in Malay). I kid you not. Haha.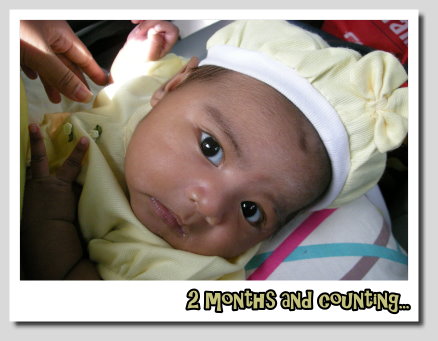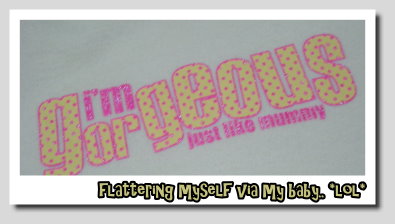 I feel blessed.
Filed under:
My Life
—
4 Comments »