Went for my check-up today. Doc removed?the stitches.
My wound area still feels numb, though not the comfortable kinda numb. More like, prickly every now and there kinda numb. But doc says the wound's healing well.. so, alhamdullilah. I've lost 10 kilos since the pregnancy but I'm thinking I must lose 15 more. Tsk. But I don't think it's impossible considering my mum hawks my every food consumption. For the better, I guess.
Anyhows, Baby Aaliya's growing well. doc advised me not to move around if I carry her cos' her weight will put pressure on me wound. Which is kinda difficult cos' depending on her mood, Baby Aaliya sometimes will only sleep in peace if one carries her and walks around. But yeah, for both our sakes, I'll try to resist carrying her. And speaking of carry, me parents and bro bought a pram for Aaliya. Goodness me. These days those pram thingy are so costly. Ah well.. nasib baik orang sponsor. *lol*
So, if you don't know my multiply as yet, here are peeks of Baby Aaliya. And oh, her umbilical cord has fallen off, so… boleh pakai baju lawa-lawa! Yeay!
This was taken in hospital. Can see the tembam-ness.
it's very rare to see?my Sleeping Beauty?wake up during the day. But when she does, I just love her eyes. Heh.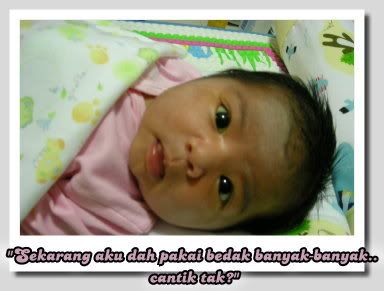 Here she is 5 days old. Getting ready to go for her blood test.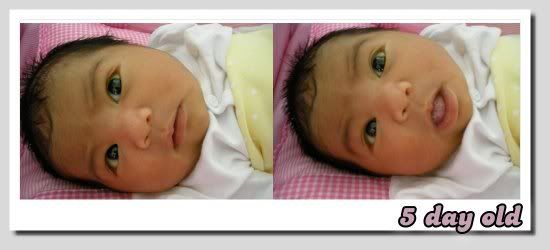 Somehow, she poses for the camera. *lol*
?
This was taken yesterday. She turned 1 week old.
That's it for now~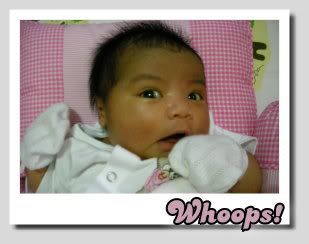 ?
Filed under:
My Life
—
4 Comments »