I'm in hospital at the moment. It's already 11.40pm but I'm missing both my babies. Baby's at home sleeping in our room while our baby's sleeping with the other babies in the nursery a few doors away.
Anyhows, here's our story.
Monday, 26/5/08: Check-up. Doc said baby is relatively big – 3.5kgs. She asked if I wanted to deliver earlier. I agreed. She scheduled me for induce the very next day. At night, mild contractions started.
Tuesday, 27/5/08: Warded at 6pm. Doc checked my cervix. Only about 2 cm dilated. She inserted the prostin. Contractions became more frequent but still no progress in dilation. Sent to ward. Dy went home. I couldn't sleep since the contractions were stronger. I missed Dy.
Wednesday, 28/5/08: Woken up at 6am. Went down to the delivery suite again. This time, I was put on oxytocin (I think). It was put via drip. When this happened, the contractions became stronger and stronger. Water bag burst when gynae was checking my dilation.
I cried. Felt like such a loser and that I wasn't strong enough. Dy comforted me. Hugged him real tight. Asked for pain relief. The midwife told me about the 3 they had and of course, I avoided the last one – epidural since I heard too many stories about it. She gave me the gas mask first. At first, it helped a weeny bit, but as more oxytocin went in, the pain was more & more so, the midwife gave me the jab. The jab didn't really do much good either as my contractions were getting stronger and came one after the other.
Couldn't take it. Midwife advised me about epidural. I relented and, boy, was I glad. I didn't feel a single thing after the epidural went in. But I hated how it made me shiver. One of the side-effects, you see.
At about 4pm, gynae said I shouldn't wait any longer. The cervix was not opening up anymore – still only at 3cm despite amount of oxytocin put in. And oxytocin's supposed to be a stronger drug! And so, considering the baby's size, the cervix not opened enough and also the water bag had burst for a few hours now, gynae said we had to do a C-sect. I was scared, but I was more afraid of what would happen to the baby if we waited. So, I went into the OT at about 4.20pm.
By this time, my body shivered horribly as they stepped up the epidural dosage. Was still conscious as they cut me up albeit feeling no pain. However, I could feel the knife cut me up, hands going into my tummy and followed by tuggings and pullings. The anaesthetist offered her hand for me to hold on to. And a few seconds later, I heard my baby cry.
They cleaned my baby up and then showed her to me. They said she was 4.025kgs! Gynae was shocked too and the people were telling me about how her cheeks were so chubby. They let me kiss my baby. Couldn't hold her since I was still shivering from the epidural and morphine. I kissed my baby. All the pain was worth it.
Dy, I love you.
Syaimah Aaliya – Born 28th May 2008, 1647hrs.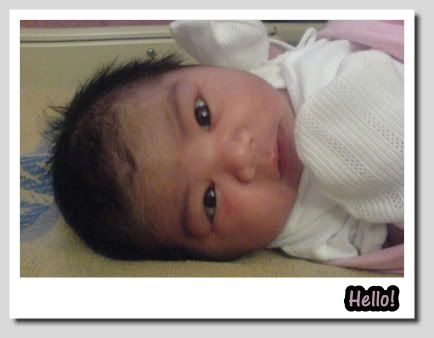 Filed under:
My Life
—
4 Comments »