This is one super-long entry.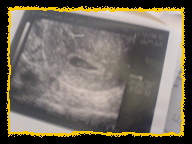 Yeaps.. that's the picture of my baby scan on Wednesday before I had to let it go. 2 weeks ago, it was only one round thing, with a healthy heartbeat. At about 8 weeks into my pregnancy, it was a weeny bit too early to scan as scans were usually done at 11th-12th week. However, because I was admitted for high fever that Vesak day, I had to get my fetal scan so, I did. Vaginally. Only thing was, my baby was scanned to have a 6 weeks fetal size. So, from my initial expected due date of 10th Jan, it became 24th Jan.
But on Monday(11th) when I got absolutely paranoid after I was bleeding like menses and thus went to 24-hr clinic to check it out, my baby had no heartbeat. The doc said my baby grew a bit but there was no heartbeat. Ok, so, it was a slap to my face but to give me hope, he said he'll schedule me for another scan this Friday(meaning today) and hopefully, he was wrong about it.
Yes. It hit me hard. I tried hard to fight the tears which were already welling up. As soon as I stepped out of the clinic, I couldn't control it anymore. Cried for a good 5 minutes near the taxi stand and all the way home. I didn't cry because I was going to lose the baby. I was mentally prepared for that when I was admitted 2 weeks ago and they wrote my Secondary diagnosis as "Threatened Abortion".
I cried because there was a lot of questions racing through my head. All I could think about was what I could have done to prevent it. Was it my fault? Something I didn't do? And it saddened me even more that I had to know it on my dad's birthday. He turned 50 on Monday and I know, it would have thrilled him to become a grandad at 50. In fact, both my dad and dad-in-law were looking forward to having their first gran-child.
But, yeah, as soon as I got home, rested, watched Spongebob the movie to clear my mind. Laughed my head off till I fell asleep. By Tuesday morning, I was already prepared to let go. Prepared to hear the next doc to say that the fetal still had no heartbeat.
But nothing prepared me for the pain. When night came, I had a series of really, really awful cramps. When I had me menses, my cramps were bad and lasted about 20 mins. Tops. Gulping down panadol would quickly douse the pain. But swallowing 2 painkillers that night, didn't even help. It was worse than anycramps I had experienced and believe me, I had some pretty bad ones which made me roll on the classroom floor during my break back in NIE and in the end having to go home.
I cried and forced myself to sleep at 10pm when the pain subsided a bit. Woke up at 2am, attacked by pain after pain. Dy woke up from my cries. From 2- 6am, I had to endure. And when I couldn't take it anymore, he rushed me to 24-hr clinic again after Subuh.
The M.O confirmed that there was no fetal heartbeat again, and so I got myself warded. My mind was clear. I had to let go, or endure more pain. I chose the former. It was not my time.
When I was wheeled in to the operating theater, I was trembling. I mean, there were beepings of machines, bright lights and big equipment. It felt like I was abducted by aliens and those green-clothes people were gonna probe me. Technically, they were gonna do just that, only, it won't be through the 'back-door'. Heh. Anyhows, it was going to be my first time passing out. Never passed out in my life. After just 3 seconds, I was unconscious and half and hour later, I woke up outside the operating theater. Another half and hour passed and then I was wheeled back to me ward. Pain was gone. Baby was gone.
There was a risk of infertility, risk of my internals being damaged by the procedure and all, the doctors said. But all that is in God's 'hands". Dy and I can always try again. And if it is our time in future, it will be.
Yesterday before I was discharged, I saw some new people in my ward. An Indian lady who just finished an operation and a Malay girl about my age. So we chatted. She was warded because her fallopian tube was swollen. She had had 2 miscarriages and 1 of them was an ectopic pregnancy which meant the baby grew outside her womb which would have meant danger for her. So, in that light, my problems are small when compared to hers.
The lady on the left side of my bed, had to have her womb removed since there was a very big cyst. Besides that, she had to bear a 14-day hospitalisation fee. (3 days~$1300)
The lady on my right side, was 5 months pregnant. But she had some bleeding and if I heard correctly, they couldn't find her placenta or something.
In those ways, I'm luckier. MY baby was only one blob. It isn't so sad to lose it now then if I were to lose it after seeing its hands or feet or face or or know what gender it is. I guess, getting pregnant means being prepared for all challenges like that. I mean, nothing's for sure. One may have had a healthy 9-months pregnancy but baby died during birth and all. So, I suppose, one has to really psyche herself when she gets pregnant. Always be prepared. Of course, one can never be too prepared. Even I broke down for a while despite being pysched up. "Be strong", I like that advice. Rather than people telling me to "Sabar". It does mean the same, but somehow, it comes across differently to me. And please, don't tell me I'm still young and can always try again. I know I am but age isn't anything.
It was an experience having a life grow in my stomach and I thank God I had the chance to. Now, to get myself strong through all the medication and "ubat periuk". Yes. Ubat periuk is Y-U-C-K-Y. But since having a miscarriage is basically almost like going through labour and with baby leaving me with a tummy(not forgetting bigger boobies and booties, much to Dy's delight) and post-pregnancy weakness, I've to oblige to me mum boiling those icky tasting stuff for me every day from now. It looks half as bad as it tastes. *squirms*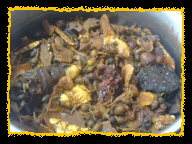 And after all this, we shall try again, ok, darling? =)
Filed under:
My Life
—
15 Comments »