Finally got my wedding ring resized and one of the missing diamonds replaced. Cost me 100bux. The ring looks new now. Am in love with it all over again.
I really have no more time for Facebook games these days. Sigh. But must make it a point to practice on the Guitar Hero when I get back after school. My fingers are getting stiff!
Things in school are starting to settle. I'm a bit uneasy about my marking load though. 5 levels of CME means about 130 odd CME books to mark a week aside from my 50 essays and workbooks, exercise books and worksheets to be marked. Hopefully, I get a bit of leeway for that CME marking part.
1 more week till Baby A2 reaches 5months.?Will be meeting the gynae next Monday for 5th month screening. Hurrah!
Found?the Guess bag Dy and I saw back during KL trip, in Isetan Tamp. Damn! Naturally, he didn't let me buy since he already stipulated "No more bags for 4 years" when I bought the Burberry wallet. Bleargh!
Tween-O bought some cute stuff from Korea for Aaliya. Thanks!!
Can't wait for quick JB trip this coming Sat.
We finally watched Avatar 3D! *lol* Maybe one of the last few people to go, but the cinema was still full house when we went. The show was really good. I guess 4 years of making with almost 1/2 a billion spent, was worth it.
Some pupils are already asking me about my bump. "Cikgu, are you pregnant?" "Nolah, I just happen to have swallowed a balloon."
Had a surprise when a simple matter got blown out of proportion. Really pissed (and is still) pissing me off. Sometimes, people just don't like how I rationalise things, eventhough they know how true it is.
I have to make a distinction between my normal voice and teacherly voice. Apparently, I don't realise I use the teacherly voice outside of class. Some people don't like it. My apologies, I shall try to?remember to switch to the right voice mode when conversing outside the classroom.
This is Aaliya's new pendant: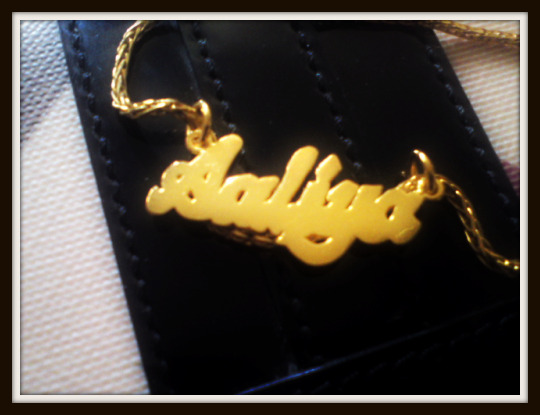 And on that note, till we meet again, peepz.
Filed under:
My Life
—
2 Comments »