Yes, my breasts, butt and tummy is bigger now.
I am NOT pregnant for obvious reasons and the only explanation I can give you is that I am getting FAT.
F-A-T.
FAT.
So, stop it already.
(at least I'm growing proportionately and I'm still a curve and not a blob of fat. If only they knew me when I was fatter 8 years ago…then maybe such comparison would't have existed…sheesh…)
*******************************************************
On a happier note for me, Dy & I had a wonderful first day with our new car on Wednesday.
It was so coincidental that Dy and I wasn't feeling well that day so we took the day off. He was down with his sneezing and flu. I hate it when he gets a flu because it's pretty darn scary when he gets it. Almost like he's capable of blowing his nose off. As for me, well, I was having one of those dizzy spell. Spinning and spinning. What the hell. And it was an even more of a coincidence when the car company said the car was ready for collection! So, Dy and I went home to rest a bit and after his flu subsided a bit, we went to get the car.
Hoho.. we were excited as hell. Of course, it was quite intimidating seeing so many new and BIG cars parked at the place, but we were more anxious of seeing our small little car. When we finally got the key, hehe, I was proud of it. No doubt it was small and didn't have those cool features or gadgets some cars have, but it was ours and that was mind-blowing thought. The only other times I felt this surreal, was when I got married and also when I got the keys to my own house.
We decided to call the car "The Tiny One" – to match its size, its pick-up and it's oil consumption. *winks*
Soon after, we did some shopping for The Tiny One. Ok… about $150 worth of shopping actually. Even I don't get to shop for clothes that much. Bah! And since our car was the Sports edition with the bodykit and all, we decided to buy the sporty steering cover to go with it. Well, we got that one at Giant so… *lol*
Can't wait to shop for The Tiny One again today.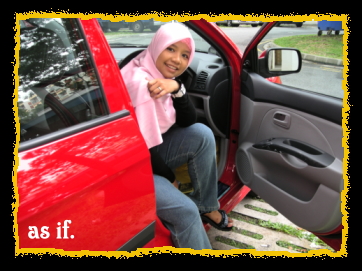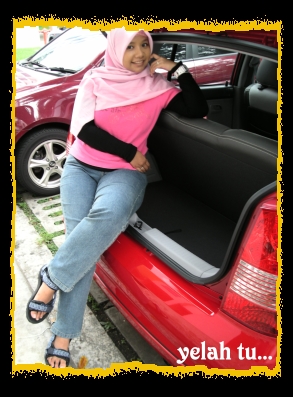 And you thought guys think of their cars as their second wife. I'm treating mine as a my second Baby. The first one's driving it. *smiles*

=)
Filed under:
My Life
—
5 Comments »