I guess the only person who has seen my visibly growing bump so far, is Witt and hubby. So, for my lovelies whom I have not met in a while, don't giggle when you see this teletubby the next time we meet.. for I think by that time, this picture might already be out-dated. I'm officially 5-months/20-weeks preggie now.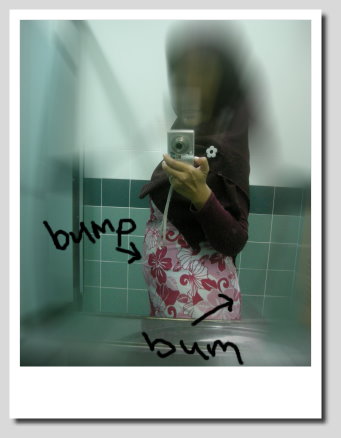 Heh. Yes, I was in a toilet, cam-whoring. Anyhows, that dress used to be so loose I didn't fancy wearing it. But now, I don't think I can wear it anymore. Hehe. Good news is, though, I prolly can take back my title of Butt Queen which I was crowned with back during JC days. Tween, I'll get that title back!
Oh, I shall avoid wearing purple or blue to avoid looking like Barney, Tinky-Winky or Doraemon. Already I have a kid telling me I look like I stuffed a pillow into that area. Kwang assam betul. Haha..
Actually, right now, I am on m.c.
Again.
Tsk. Basically, I just couldn't get my body moving to go to work. My leg was aching. Prolly since it was a cold night coupled with the fan blowing directly from my feet area and I didn't put the blanket over me. Of course, I had a long day yesterday up & down the stairs and there is also that overwhelming feeling that there's just so much work to do and although being on m.c doesn't help alleviate the problem, it does get me the chance to rest. But, yes, after a good rest today, I am very much motivated to go to work again. I wouldn't want the kids to be left behind in their work.
I'm also quite worried on seeing some of my leg veins getting rather visible. I've one small one popping out already. They say it's common as I get bigger and all and the cure, although kinda ironic to me, is to be moving around more. So, if I wanna avoid getting those varicose veins which my mum got when she was pregnant with my sisters last time (she sometimes got me and my bro to help her massage them down, they were kinda scary popping out like that), I'd have to walk around more even if that would make me more tired. I seriously don't want to have them growing on my legs.
It's easy to move around, considering I have classes on the 1st, 3rd and 4th floors of my school, the time-table's packed and there aren't lifts around. I just somehow have to pump in more energy into me. Hopefully, more food isn't the solution for it. Maybe, I shall have to psyche myself and the Lil' One up the moment I wake up in the morning. It's a great day ahead, I shall say. And hopefully, I get the drive I need. I only hope people won't tell me to slow down and not to be going too fast. There's an irony, too. Some people tell me not to be too active but on contrary, if I'm not active, it'll affect me and the Lil' One later on.
Ouh well, I guess I'll just revert to the bouncy way I was back then. I actually love moving around and stuff. In fact, Dy says I'm the sort who can't sit still for a few seconds let alone one minute. Just that the extra weight has been bogging me down a little these day. It's kinda bad for me to be feeling this lethargic so early in the pregn. I mean, It'll be even bigger later on. I've got like 4 long months to go! Have to work on my stamina, I guess. Think happy thoughts, look forward to days after the whole journey. So, maybe I'll just pretend I'm lugging around a backpack like I used to back in J.C days, and continue doing things the way I used too, even if it means I'd whine to Dy and get him to massage me legs at the end of the day. As long as my Lil' One doesn't get lazy in me, heck, I'll walk as much as I can.
And if I get tired, I'll just have to remember the reactions of the kids who are so excited about my having the Lil' One. Heh. For example, the words of my P2 boy, "Cikgu Suhainis, makan makanan yang sihat-sihat ok?" (Cikgu Suhainis, please remember to eat healthy food, ok?)
Kids.
I can't wait for my own.
Filed under:
My Life
—
5 Comments »