Yesterday, inspired by Tween-O's cupcakes which she'll be  making for me for Children's Day, I decided to give another shot at my own cupcake-making endeavour since I also bought extra cupcake cups. Of course, I was skeptical about giving to my in-laws since I was relying mostly on instincts (omitted recipe books) and it was after all, fasting season. Though my sisters liked it, I think my in-laws might have found it.. hard and buttery since my big mistake was putting the cake in the fridge to avoid melting the icing. Heh.
The cake, I knew where I went wrong so, I'll improvise on that the next time around. No, Dy. It won't be 1 year from now. =p
And since Dy found the butter taste a tad too overwhelming after a feast of roti naan, keema and porridge, I'm thinking of relying on my instincts again in making fresh cream or something less buttery. Heh. Hope my instincts won't run out on me.
As for Hari Raya cookies which I'd prolly start making in 2 weeks time, thank God my sisters are big enough now. I can get them to bake after I make them. Baking takes so much time. Especially, Snowball Cornflakes.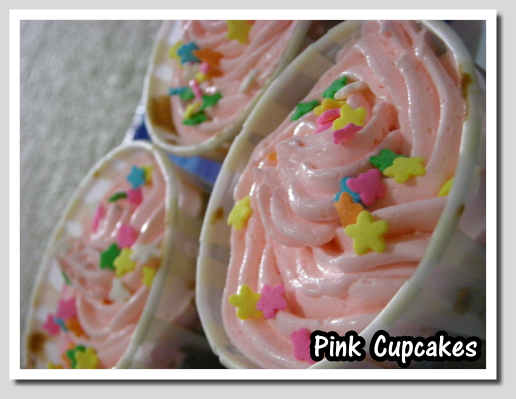 Now I'm inspired to buy more colorings. *grins*
Filed under:
My Life
—
5 Comments »