Thanks all for the concern yesterday. I'm a-ok today.
Yesterday went on smoothly. Though I must say, I ended it badly with a "You don't bullshit me!" coming out of my mouth. I guess precisely why I can't teach Secondary kids. I'm very much still hot-tempered. But can't blame me for being pissed at a bunch of kids who have been laughing and mocking at a less-experienced kid for her funny dance moves. I can't just keep quiet and watch the kid being the butt of their laughters.
Anyways, though my kids' results weren't fantabulous,  I'm glad all my big ones passed and as for the kiddies, much better lot than last years'. Ah well, I'm contented and the main thing is, I know the kids worked real hard. It just takes the kids to turn one's mood around.
In the morning, I came to school wearing sandals and baju kurung. After that, I changed into my teaching shoes.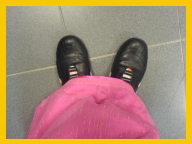 Not a likely pair, huh? Hehe.. I just felt lazy to iron so I just grabbed my sister's baju kurung, forgetting that I only have these shoes stored in school. If my usual Fashion Police was in school yesterday, he'd tell me,"Chekgoo Suhainis, kenapa Chek-chek-chekgoo Suhainis pakai kasut ni? Tak kenalah.." Hehe. He always tells me when I look not so right in his eyes. Though some of my kids like me wearing contacts, he'd tell me I look better with specs. Haha.
Anyways, it was my big ones who commented on my shoes. "Chekgoo, kenapa Chekgoo pakai kasut ni ah? Tak kena pakai baju kurung ngan kasut ni.."
I told them I was lazy to wear heels. "Tapi Chekgoo pakai kasut tinggi lagi cantik seyy.."
*lol* It was funny to hear that, though my Fashion Police would probably say(he did say it once actually), "Chekgoo Suhainis, Chek-chek-Chekgoo Suhainis jangan pakai kasut tinggilah. Nak turun tangga susahlah!"
*lol*
Filed under:
My Life
—
4 Comments »