Not mine, of course. Heh.
After months of preparation, Witt's wedding finally took place last Saturday. And since Dy was the groom's best man and I was supposed to be one of the bridesmaids, we were separated for the event. For a while. Anyhows, we had to wake up bright and early since the solemnization was to take place at 10am and the groom's place was at Telok Blangah.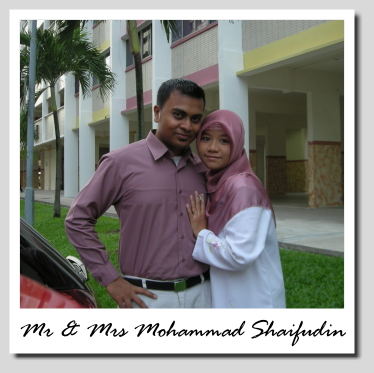 Don't mind my crooked smile. Had saliva accumulating and my usual smile couldn't surface. Heh. So, after sending Dy, Bedah drove us back to Witt's place. At about 9.30, we made our way to the void deck since the solemnization was to take place at the dais. When the groom's entourage came, I was actually so excited to see Dy. Macam aku plak yang nak kawin! Hehe. Anyways, funny thing was, although the entourage was there and the "road block" in the form of Witt's 4 aunts was there to "block" the groom and his party, the groom made a detour and walked right pass the aunts! In fact, he looked like he couldn't wait to be married and was walking so fast, leaving his best man behind. *lol* Tak sabar-sabar!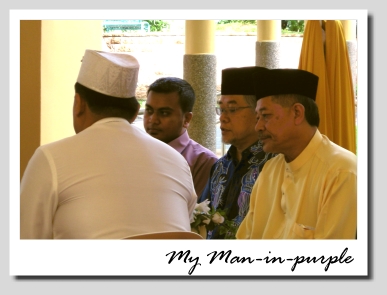 So, since the kadi was already there, the ceremony began. Witt's dad did the akad nikah himself, witnessed by the kadi, Witt's uncle and my Baby. With one try, it was Sah! And the 2 were finally man-and-wife.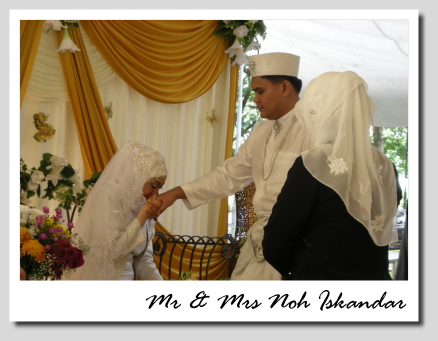 Of course, the other highlight for me besides seeing a close friend of mine get married, is meeting up with the other girls. Never a dull moment with them around.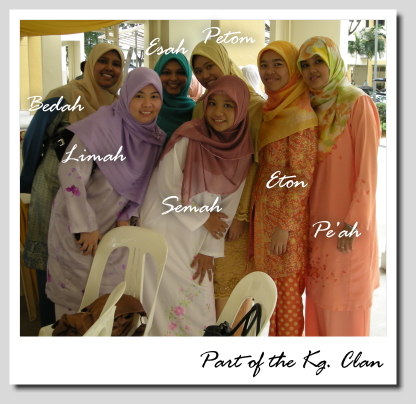 How much have I grown? See for yourself.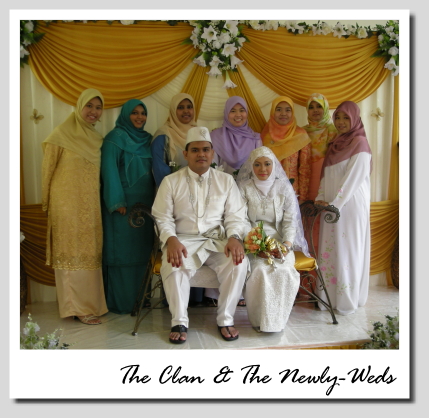 After that, we moved off to the groom's side. While waiting for the kompang ensemble to start, cam-whoring seemed like a pretty good idea indeed.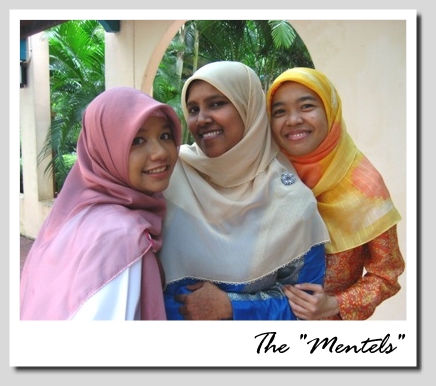 During the reception, Dy's other NS-CD friends arrived and sat with us. I volunteered to carry Mrs R's baby, Firdaus, who was so, so, so quiet and… tembam. And of course, I didn't really need much practice since I've been carrying babies since my brother, sisters and cousins came along and also when my mum used to babysit. Yes, I am that old. Heh.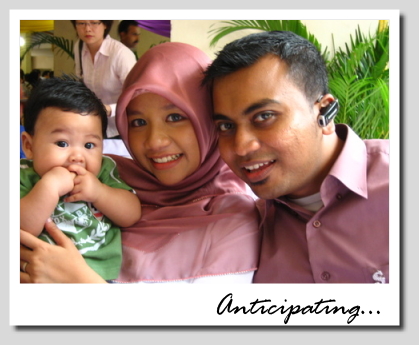 At nearly 5pm, we made our way back to the bride's side. It was time to send everybody home, including ourselves. While removing the wedding car decor, we came across a hurdle, which normally could have been solved with a pair of scissors or pliers. However, although we had none of those, we managed to remove the wires which held the ribbons to the car by means of teeth. And this is the owner of such strong teeth…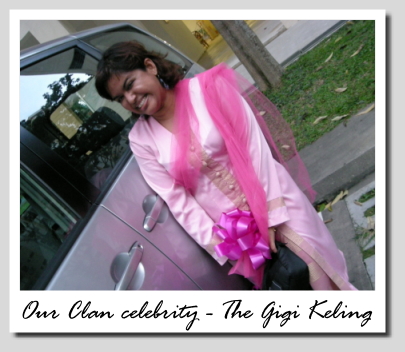 No, I'm not being rude. It's a name she coined herself. *lol*
Yesterday, Dy and I drove the newly-weds to the photo studio. While waiting for them, we saw a very familiar sight. You'd recognise it if you've watched Laksamana Do Re Mi.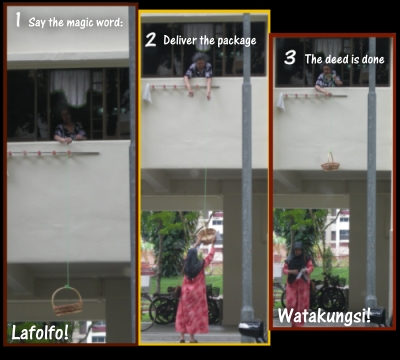 Hehe. Ah well, I had so much fun. To the newly-weds, have a great life ahead together filled with much love.
Me and Dy, well… we're pretty much…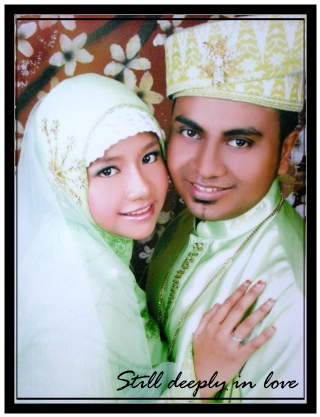 Filed under:
My Life
—
4 Comments »