Back from that endoscopy thingy. Glad to say, I'm contented that there aren't any ulcers in there. Just a little bit of inflammation and also, some stomach reflux or something. Main thing is, there isn't anything growing there and that's a big relief.
So, when I was there, I was taken aback to be ushered into a ward where there were all OLD people inside except for me. *lol* All of them were sleeping. I didn't think I'd have to actually sleep here for 2 hours after that 5 min scope procedure! Tsk. Anyways, I was given Bed 25. Interesting, I thought. What a significant number for me.
They took blood pressure, and then a young doc came in to explain some things to me. It was almost hilarious how he looked at me while explaining that there could be complications during the procedure. I think he was trying VERY hard to look serious and empathetic, but he looked rather pathetic. So, he tied a latex glove halfway up my arm, to find a vein to poke the tube in. He tried one arm, then he said he'd have to try the other. Ok, so, he found a vein, and poked. I was almost gonna slap him on the head cos it felt like he was weaving a needle and thread into my hand ever so slowly. Argh, and know what? He actually pulled it out again! And tried another needle. I said, "Ouch!" and he said, "Oh, sorry!" It's ok, boy, I now only have 2 needle holes on my hand.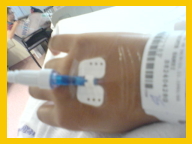 So I waited and waited. At 11.45, I was wheeled into the endoscopy room on my bed. There were 2 policemen outside the room I was suppsoed to go in cos' they were accompanying a convict which was in the room before me.
I tell ya, I wouldn't wanna have another endoscopy in my life. I thought I was going to be sedated and go sleep/unconscious or something cos' most of the old ladies in the ward were sleeping when they were wheeled in. But I was wide awake, squirming as the tube was put through my mouth and to my small intestines. It got bad, I vomitted and without me realizing it, I was shedding tears. *lol* "The nurses there were like, are you ok? It's ok, we're done here, ok."
It wasn't exactly painful per se. It just felt weird having something go into my stomach, move around and then stirring up some bile to vomit out of myself. I wasn't crying because I wanted to, but because my body wanted to. Glad it was all over though. Cos' I couldn't wait to eat. My last meal was at 6.30pm yesterday and my procedure was at 11.45am! So, I was contented when the nurse gave me butter sandwich and milo – hospital style.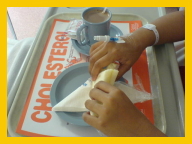 I have some red marks on my arm from the blood pressure thingy. It was a tad too tight and the doc's assistant left it there longer since the machine couldn't take my reading with me moving around too much. Kinda look like those hickies, huh.. but it's a helluva long hicky. *lol* My mum's a bit mad though when she saw the long streak of red around me arm.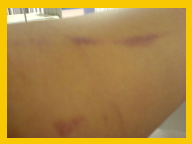 At the end of all that, this is my medication.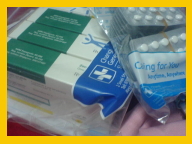 My only complaint from the procedure is, I still feel a slight pain in my left side of the throat from swallowing the tube. Right now, as I swallow, there's that annoying poking feeling. Sheesh.
But, yah, I'm glad it's all over. No choc/coffee anymore for me folks. Urgh!
Aight, have a good 2 more days countdown to weekend!
Filed under:
My Life
—
6 Comments »