Last Wednesday was the monthly Fruit & Vege day in school. I was put in HE comm by the way and I was in-charge for this month's and so, I had to hunt for some CIKUs, the fruit I chose to introduce. Of course, 2 days before the event I had to scramble to get cikus only to find out it wasn't season yet. Silly me. But thank God for Mustafa Centre, me Coordinator managed to get some and ho ho ho! I must say it rekindled my passion for cikus. The last time I ate cikus was back in Primary School, I reckon. Argh!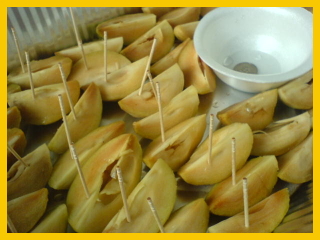 And since the last week of school basically meant I had a lot of time in my hands with the little ones, I had them help me with the selling. Haha. Got them to alternately shout "Ciku, ciku! 10-cents, 10cents!" It was hilarious seeing how enthusiastic they were trying to sell to their friends.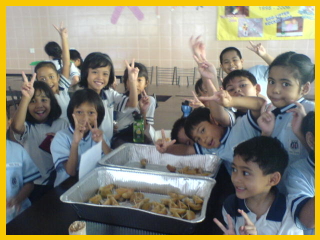 And here's the Chekgoo with her cikus and cheeky ones. *lol*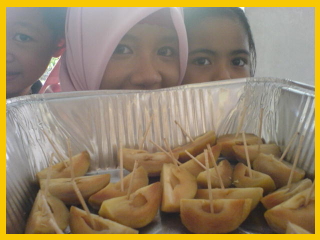 Oh, and then I had mee rebus for lunch. I love the school's mee rebus. The gravy's damn thick. Reminds me of the mee rebus I had when I was a kid. The uncle who sold the mee rebus moved stall but me dad found him in Lorong Ah Soo. But soon after, he was there no longer. So, lucky for me, the mee rebus I have in school, tastes just like that one and to make it even more yummylicious, a packet costs only $1. Ahh, the benefits of working in school. $3 pocket money a day more than suffices. Heh. Oh, yes, I like mine without taugehs. =s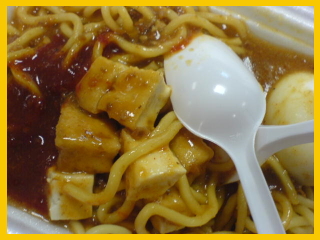 Ok, so I ended up not going to school today due to exhaustion and dizzyness. Yesterday, when I met up with my RO for my work review, he commented I looked tired. Damn right I was. I was damn tired sitting down to much, doing to much paper work. My ass hurt even though the chair was a cushioned one.
Once I finished with that, I went home straightaway. Had a bit of rest, and Dy asked me out for some retail therapy. Hehe.. not the clothes-and-shoes kind. More of groceries. Dy and I, we're simple and practical people. We only buy new clothes/shoes/stuff when the ones we have are worn out or in dire straits. Hehe. Besides, these days,we're gonna need to save up. And time to practice more caution. And time to cut down on the taxi rides. For me at least. *Arghhhhh* But then, it IS quite impossible. *lol*

Filed under:
My Life
—
8 Comments »