After that bad, bad weekend, I've had a rather good weekday. It was a good week despite the rush of typing out the exam papers. I guess, I work better under pressure. I mean, I had a whole week to start on the papers but only 2 days before the submission date, I got started on it. Yeah, me and my procrastination. Not healthy but yeah…
Anyhow, that aside, it was a good week. A good SHORT week. Heh.
When you come over to my school staff room, and drop by my space, you'll pass my neighbour's place and think,"Teachers don't really have that much to do, do they?"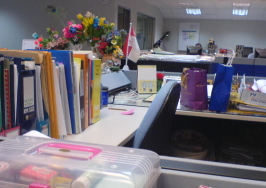 But when you finally come to my place, you'll see the organised mess I have. Ok, mostly clutter I accumulated in case I lose any important documents.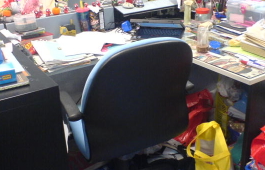 Difference between my colleague and me? She has her own classroom thus her clutter is stashed there. Heh.
This week, I started on the "Tropical Fruits" Unit with my big ones. I bought some fruits, placed them on one of my 'hantaran' trays and got them to bring one fruit each. So, we had a tray of fruits which we learned one by one. It was weird they don't even know the names of some of the fruits. Buah bintang, cikgu! *slaps forehead*. Got the kids to even do up posters in groups and pretend to 'sell' a fruit providing info on the fruit to sell. It got hilarious. My kids, they love this sort of verbal presentations. In writing, we have LOTS to work on. I have a lot to work on.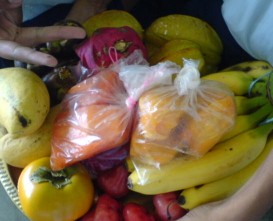 One time I helped a kid open one of the mangosteens, it apparently was a rotten one. When I saw the brownish flesh, I literally threw it on the table. My kids squirmed but at the same time laughed when they saw me running away. *blush* Like I said, I freak at the sight of wormies. Urgh! However, after all that, we had a fruit party in the canteen! It was swell eating with the kids.
Oh well, will enjoy this weekend. For tomorrow, I'll get Dy to help me as I bake some brownies and cookies. Been ages since I touched that oven. =) Aight, happy holiday, people!
Filed under:
My Life
—
3 Comments »