The reason why I don't buy nasi briani in school when it is sold Thurdays only and at dirt-cheap price of $1.50, is because my in-laws are in the briani business. And I steer away from any other briani because…
1) my in-laws sometimes give us briani when they get orders..
2) I get to eat briani when they cook for weddings
3) When I do eat their briani, I eat lots and lots cos' they are so addictive.
So, yesterday was spent under blk 142 cutting the ingredients. It's for an Arab family wedding so, I think there're loads of Arab people over there right now as I type this. Yes, I'm stuck at home doing worksheets while his family and mine, busy themselves with catering food there. Sigh…
Yesterday, I decided to cut away the 3 big, red plastic bag full of cucumbers since I will NEVER in my life, cut brinjals because worms thrive in it.(precisely why I don't eat brinjals either). Anyhows, true enough, my sis in law and aunt were squirming cos there were lots of them. Me? At every squirm they made, I stood up and ran away. Yes, I'm that darn squirmish of them.
Ok, sorry. Back to cucumbers though, the cucumbers were meant for the acar timun.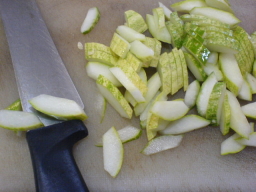 Before, I never ate acar timun when I went to weddings with me mum. But after trying out my in-laws' acar, it has become a must-have in my brianis. Heh. I've been helping out with Dy's family catering business since our relationship got "found out" 4 years ago.(yes, we went out for 2 years before being "found out") *LOL*
Anyways, here's 2 of the 3 trays I cut up yesterday.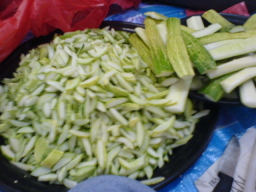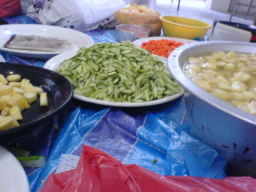 And here's the whole briani set fresh from this morning.(minus my favourite ayam masak merah cos' it's already finished. *sulks*)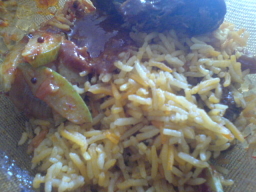 Why so little, you say? Well, it's my third helping. *lol*
Filed under:
My Life
—
4 Comments »