Well, 2 weeks in a row, me and Dy have involved ourselves in helluva a lot of things.
Yesterday, we joined Tween-o and Witt for the Fun-on-Foot race organised by the NHB. Let me walk you through the day we had.
Had to get out of the home by 6.30 since registration started at 7.30am. So, we dragged our sleepy heads and bodies to the bus-stop to meet Tween who lived just a few blocks away from us, by the way.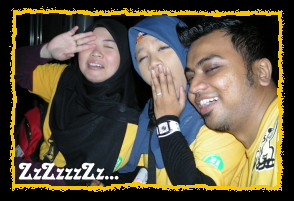 True to my instincts, Witt forgot to wake up, so we walked around while waiting for her. She took a cab from her place to pick us up but we ended up having to run after the cab after it overshot a stop from where we were. The guilty hung in her head in shame as she was charged and an appropriate sentence was meted out which would have to be served concurrently after the race.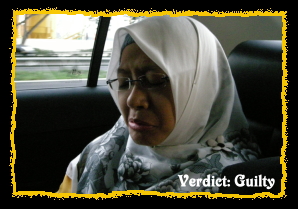 And so, after registering, we received our map and got down to deciphering whatever needed deciphering.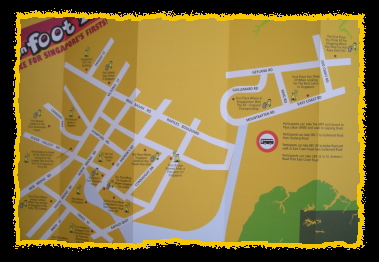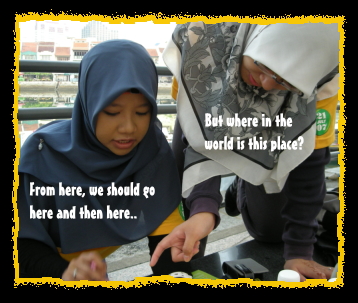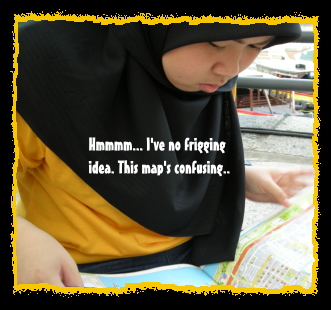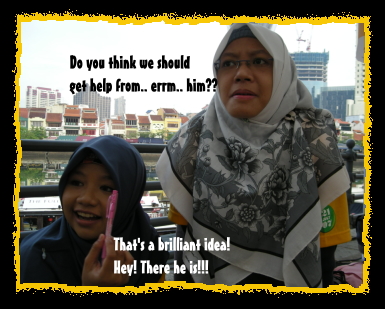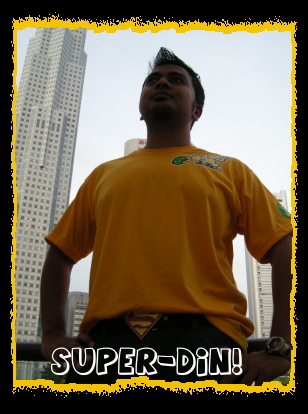 And so it began…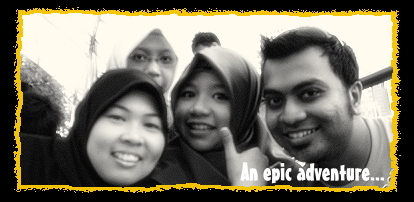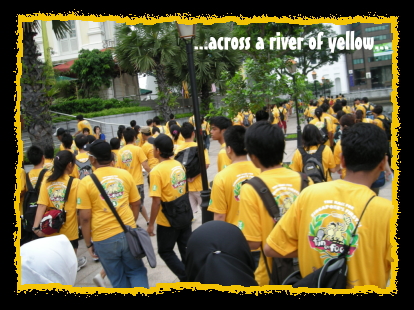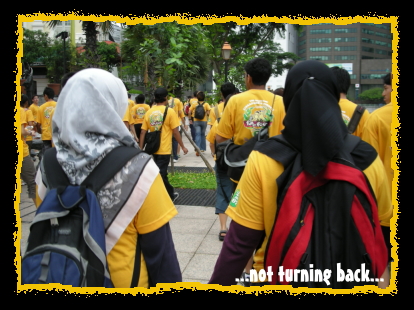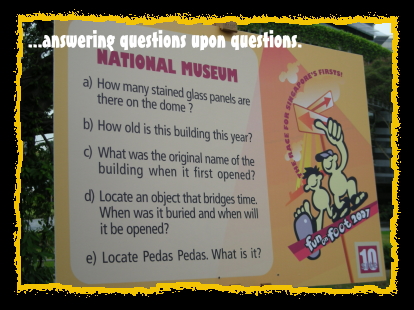 Miraculously, we did a lot of running as well. For someone who took 30 minutes to complete 2.4KM run back in my Sec days(ok, that was deliberately done out of sheer mischief), I was amazed I could keep running. Though we did not win(duh!) we were satisfied and enlightened all the same.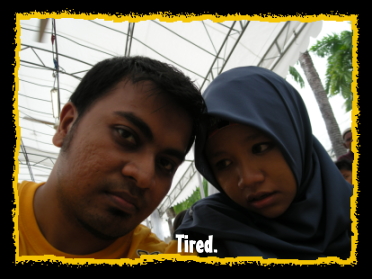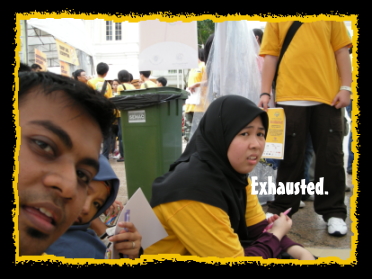 And if you're wondering where Witt is in the pictures, well, she had some ounces of energy left to live her long-time dream of grooving with these boys!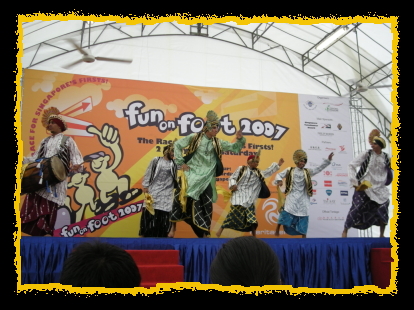 We took a video of her bhangra-ing but without her permission, I shall not post it up. Hehe. It was hilarious yet, we were amazed what a natural she was at it! Oh and by the way, the guy in green, was a drooler for Witt & Tween-O.
And so, after that we headed down to Moulana to cleanse ourselves before prayers.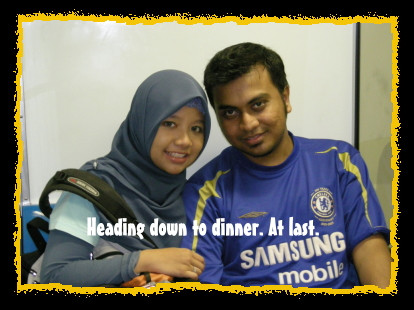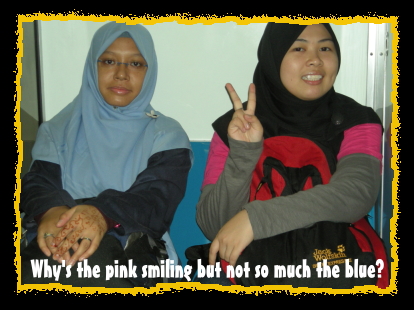 Well, it was time for Witt & fiance to redeem themselves. Since he owed us treat too, we decided to let them serve the sentence simultaneously. And serve they did. Woohoo!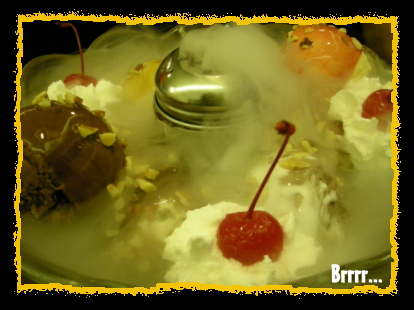 After eating, service was so slow, we had to wait for iced water and the bill to come. So, Tween & I (ok, more like me actually), indulged in our favourite after meal past-time – creating recipes with food remains.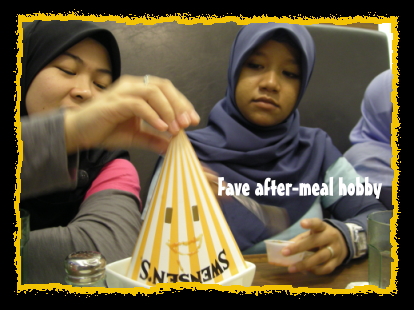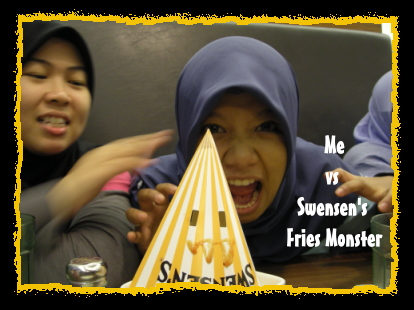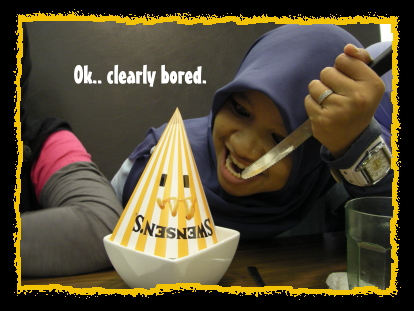 After the meal, Tween left for home while the 4 of us went for a movie. We decided on Blaaack Sheeeep mainly due to timing and I tell you, I've never seen a crappier movie in my life. Not even on crap TV shows.
And so that was how Dy and I spent our weekend. Sunday, it was more of, resting the aching muscles on our bodies. Like Tween-O said, "We're getting too old for this." *lol*
As for the last weekend where Dy and I did kerraaazzzy stuff, well, we spent a helluva lot of money for 2 things. Firstly, a new digicam. This is like our 3rd digicam. The first fuji film one, is no longer working, I lost the second one, an Olympus and this is our current one. Thank goodness, I get to reimburse this one since I'll be using the $400 allocated for all teachers to buy 'educational' or professional/personal development things with.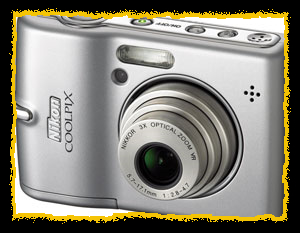 Dy and I also, bought this.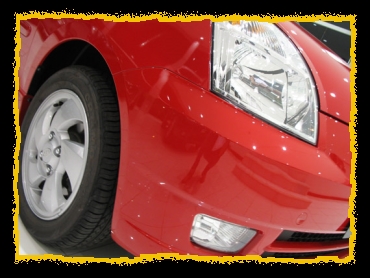 A tiny car but that's affordable for us both. If all goes well, I'll be going to school in this by next week. Hurrah, can't wait to go shopping for stuff to put in it!
Anybody has that Autobot logo sticker?
Filed under:
My Life
—
3 Comments »